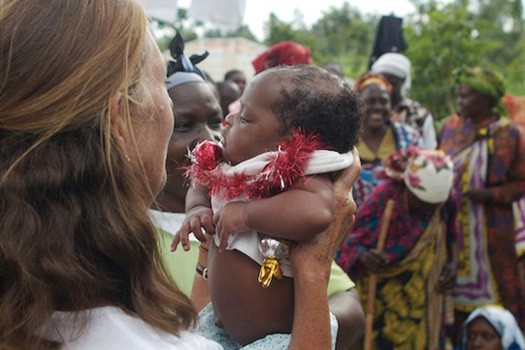 Sunday 10/25, 2:40 PM (Session 23)
Director: Leonard Morris, Georgia Morris
Producer: Leonard Morris, Georgia Morris, Petra Lent
Description:
The beauty of the world in its children's faces belies the injustice of their chances in our current global landscape. With vivid and often beautiful footage of hard places to grow up in, shot in eleven countries, The Same Heart follows the stark effects of inequality on the world's children, with a heartening promise. The film gathers a growing number of global economists, joining their voices with moral leaders of the world, to propose an extremely small financial transaction tax, the 'Robin Hood Tax,' to place the needs of children at the heart of the global financial system.
Biography:
Len Morris is the editorial director of Media Voices for Children, a documentary filmmaker, lecturer and advocate for children's human rights. Stolen Childhoods, narrated by Meryl Streep, examined child labor in eight countries and was described by the New York Times as "harrowing but hopeful." Rescuing Emmanuel dealt with one-hundred-million street children and The Same Heart examines global funding shortfalls for poverty programs and their impacts on children. In 2002, he established an educational program for child laborers in Kenya. The Kenyan Schoolhouse has supported hundreds of children, removing them from work on the coffee and tea plantations and sending them to school. Len's work has been shown at the US Department of Labor, the World Bank, the US State Department, USAID and at college campuses. He received the Walter Cronkite Award for his work to end child labor and The Images and Voices of Hope Award for his work on behalf of children's rights.
Georgia Morris is a playwright, writer of network and cable television shows and a documentary film co-producer. She is a member of the Writers Guild of America, East. She worked as a co-producer/writer of Rescuing Emmanuel, a documentary on children and extreme poverty, co-writer of Stolen Childhoods, a documentary on global child labor; writer of A Spiritual Journey, a film exploring seven religious traditions and as the writer and interviewer for We Are One, a documentary for The Temple of Understanding, a UN based interfaith organization. Georgia's two-hour special for AMC, The Republic Pictures Story, was nominated for the same award and her one-hour special, Roy Rogers: King of the Cowboys, won a Cine Golden Eagle.
Contact Information:
e: galenchief@gmail.com
w: www.thesameheart.com
©2015 United Nations Association Film Festival (UNAFF)