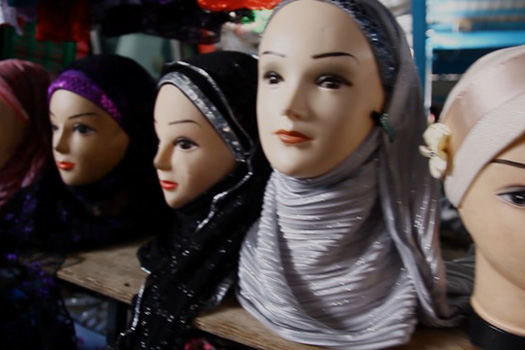 Good Muslim Girls




(7 min) Iraq/US



Monday 10/19, 7:00 PM (Session 11)
Director: Marilyn Agrelo
Producer: Amy Sewell
Description:
In an unidentified Iraqi city, filmmaker Marilyn Agrelo met two young women who looked strikingly different from other girls at their university. In a sea of female students wearing floor length skirts and hijabs, they stood out with Western-style outfits and uncovered heads. As Iraq becomes more and more radicalized, some women are openly rebelling against the constraints being put on them. These girls (whose identities are not disclosed) discuss the choices they've made and the repercussions they face daily. For them, the refusal to wear the hijab is a matter of human rights and they're willing to sacrifice everything to demonstrate this.
Biography:
Marilyn Agrelo is a New York filmmaker and producer. Marilyn's directorial debut was Mad Hot Ballroom, which enjoyed a theatrical run of over twenty-four weeks and took its place among the top ten highest-grossing documentary films of all time. Mad Hot Ballroom is currently in pre-production for its Broadway debut. Marilyn's feature film debut came in the form of An Invisible Sign, shot in the fall/winter of 2009 and released by IFC Films. She has directed numerous commercials and branded content films that have aired around the world, and several projects for television and new media, including three episodes of the Emmy-winning children's series The Electric Company, and The Untold Stories of Motherhood for the Oxygen Network. Her documentary short No Small Parts is currently playing in film festivals around the US. Marilyn continues her research and filming on a very personal film entitled Us and Them about her divided family in Cuba and the U.S.

Amy Sewell produced award-winning, audience-favorite Mad Hot Ballroom which is currently in development as a Broadway musical. Amy's directorial debut was What's Your Point, Honey? followed by documentary short Blindspot. A published author, her books include The Mad Hot Adventures of a Documentary Filmmaker and She's Out There! The Next Generation of Presidential Candidates. She is currently finishing work on a fiction book and complimenting TV series. Sewell serves on the advisory board of Reel Works Teen Filmmaking and is a collaborator for GoodStoryFilms.
Contact Information:
e: amymsewell8s@gmail.com
©2015 United Nations Association Film Festival (UNAFF)