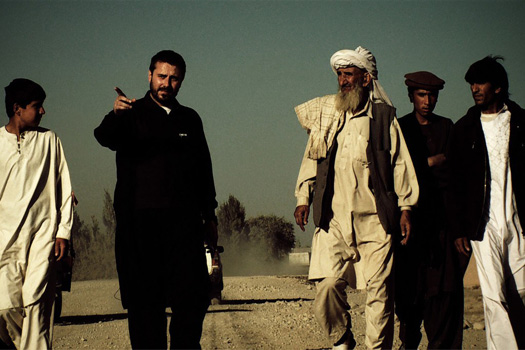 Saturday 10/17, 9:30 PM (Session 7)
Director: Richard Rowley
Producer: Brenda Coughlin, Anthony Arnove, Jeremy Scahill
Description:
Dirty Wars, the Academy Nominated film, follows investigative reporterJeremy Scahill, author of the international bestsellerBlackwater, into the heart of America's covert wars, from Afghanistan to Yemen, Somalia and beyond. What begins as a report into a US night raid gone terribly wrong in remote Afghanistan quickly turns into a global investigation of the secretive and powerful Joint Special Operations Command. As Scahill digs deeper into the activities of JSOC, he is pulled into a world of unknown covert operations and carried out across the globe by men who do not exist on paper and will never appear before Congress.
Biography:
Richard Rowley is co-founder of Big Noise Films. His work includes award-winning films Fourth World War and This Is What Democracy Looks Like. His news reports are featured on Al Jazeera, BBC, CBC, CNN International, Democracy Now!, and PBS. Rowley is a co-founder of the Independent Media Center. Rowley has been a Pulitzer fellow, Rockefeller fellow, a Jerome Foundation fellow, and a Sundance Documentary Film Program fellow.
Brenda Coughlin is co-founder of Civic Bakery. Coughlin produced The People Speak documentaries and was distribution producer for CITIZENFOUR. She has been a fellow in the Sundance Institute Women Filmmakers Initiative. With Howard Zinn, she co-founded Voices of a People's History, which runs performing arts and education programs in communities and schools through the US.
Anthony Arnove is co-founder of Civic Bakery. Arnove wrote, directed and produced The People Speak with Howard Zinn, Chris Moore, Josh Brolin, and Matt Damon. The documentary is the film companion to Howard Zinn's bestselling book A People's History of the US and its primary source companion, Voices of a People's History, which Arnove co-edited. Arnove is the editor of several books including Iraq: The Logic of Withdrawal.
Jeremy Scahill is a co-founder, with Laura Poitras and Glenn Greenwald, of The Intercept. He was previously national security correspondent for The Nation magazine and is a Puffin Foundation Writing fellow at The Nation Institute. Scahill is author of Blackwater: The Rise of the World's Most Powerful Mercenary Army. Nation Books released Scahill's second book, Dirty Wars: The World Is a Battlefield, simultaneously with the film. Scahill has reported from Afghanistan, Iraq, Somalia, Nigeria, Yemen and former Yugoslavia.
Contact Information:
e: brendacoughlin@mac.com
w: www.dirtywars.org
©2015 United Nations Association Film Festival (UNAFF)