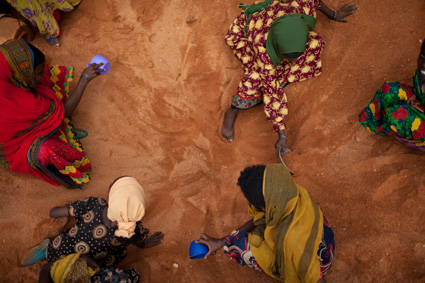 When the Water Ends
(16 minutes) Ethiopia/Kenya
Producer: Jennifer Redfearn
Photographer: Evan Abramson
Description:
When the Water Ends tells the story of climate change conflicts in East Africa. For thousands of years, semi-nomadic pastoralists have followed fresh water sources and grazing land. They are accustomed to harsh environments and surviving with limited resources. But with the impacts of climate change, competition for water and pasture is escalating. Increased drought and decreased rainfall is fueling violent conflict over water and grazing lands.
Biography:
Jennifer Redfearn has been a producer at MediaStorm since 2010. She produced and directed the 2011 Academy Award-nominated film Sun Come Up, a documentary following the relocation of some of the world's first environmental refugees. She was the recipient of a Pulitzer Center on Crisis Reporting Fellowship, and the Jerome Foundation, Chicken and Egg Pictures, and the NYSCA individual artist grants. Prior to this, for six years she produced programming for media outlets, including PBS, the Discovery Channel, TLC, and for educational distribution. She has field-produced stories from across the states, Central America, the Middle East, Afghanistan, and Papua New Guinea.
Evan Abramson is a photographer and filmmaker born and based in New York City. He specializes in long-term documentary work and multimedia approaches to narrative, with a focus on issues of social and environmental crisis.
Contact Information:
MediaStorm
E-mail: jessica@mediastorm.com
Web site: www.mediastorm.com/store/dvd-page/when-the-water-ends