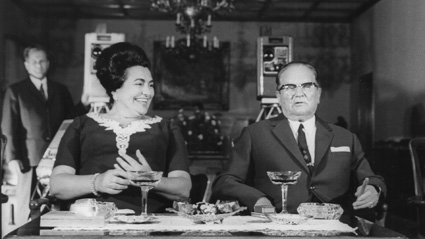 Cinema Komunisto
(101 minutes) Serbia
Director: Mila Turajlic
Producers: Mila Turajlic, Dragan Pesikan
Description:
Cinema Komunisto takes us on a journey through the crumbling remains of President Tito's film industry exploring the rise and fall of the cinematic illusion called Yugoslavia. Using rare footage from dozens of forgotten Yugoslav films, as well as never-seen-before archives from film sets and Tito's private screenings, the documentary recreates the narrative of a country—the stories told on screen and the ones hidden behind it. Stars such as Richard Burton, Sofia Loren and Orson Welles add a touch of glamour to the national effort, appearing in productions financed by the state. Tito's personal projectionist who showed him films every night for thirty years, his favorite film director, the most famous actor of partisan films, and the boss of the central film studios with secret police links all tell how the history of Yugoslavia was constructed on the screen.
Biography:
Mila Turajlic graduated from the London School of Economics with a degree in politics and international relations, and completed a degree in film production at the Faculty of Dramatic Arts in Belgrade. During her studies she set up an NGO that introduced parliamentary debating at the University of Belgrade, and competed in many debate tournaments, winning Best Speaker Award at the European Universities Debating Championships in 2001. Faced with the political reality of post-revolutionary Serbia, she converted to filmmaking in the belief that art will always be more subversive than politics. With the aim to bring quality documentaries to Serbian audiences, in 2005 she cofounded the Magnificent 7 Festival of European Feature Documentary Films, which takes place in Belgrade every January. Cinema Komunisto is her first feature documentary.
Dragan Pesikan is a media executive and producer with over ten years of experience in television. Following several years working as a journalist for print and radio, he joined the sports department of Channel 3 (3K) of Radio-Television Serbia, the national public broadcaster, as a journalist and commentator. Currently he is the production manager and head of commentators at Eurosport. In recent years he has specialized in film production and set up his own production company, 3K Productions, and is overseeing the script development and production of several feature film projects.
Contact Information:
E-mail: film@cinemakomunisto.com
Web site: www.cinemakomunisto.com