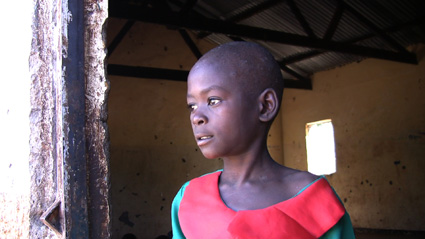 To Educate a Girl
(74 minutes) Nepal/Uganda
Directors/Producers: Oren Rudavsky, Frederick Rendina
Description:
In 2000, 110 million children in the world were not in school—two thirds of them were girls. Framed by the United Nations global initiative to provide equal access to education for girls by 2015, To Educate a Girl takes a ground-up and visually stunning view of that effort through the eyes of girls out of school, starting school or fighting against the odds to stay in school. In Nepal, Manisha, a teenager who works in the fields while her three younger sisters go to school, is contrasted by three young listeners of a hugely popular youth-oriented radio program. We learn how the program has helped them deal with issues of early marriage and poverty in order to stay in school. In Uganda, we meet Mercy, the 6-year-old daughter of an impoverished single mother who is about to embark on her first day of school, and Sarah, a teenage war orphan who is haunted by a tragic past but still managing to study. From volunteers going door to door in southern Nepal to a "back to school" march that brings an entire community together in northern Uganda, a stirring picture of grassroots efforts to help girls get a decent education is brought to light. To Educate a Girl is a compelling look at the lives of young women who are striving to achieve their dreams in the face of conflict, poverty and gender bias.

Biography:
Before collaborating on To Educate a Girl, Oren Rudavsky worked as a producer and writer on the series "Time for School 3," a twelve-year study of seven children's education in the developing world for the PBS's Wide Angle. Oren also produced and directed another child and family centered film And Baby Makes funded by ITVS and broadcast on the Independent Lens. Oren's nonfiction feature Hiding and Seeking was nominated as best documentary in 2004 for an Independent Spirit Award, and broadcast on POV series. The NEH funded his 1997 film, A Life Apart: Hasidism in America, which was narrated by Leonard Nimoy and Sarah Jessica Parker and received an Emmy nomination.
Prior to collaborating on To Educate a Girl, Frederick Rendina produced and directed for A&E, the Biography Channel, the Travel Channel, PBS's Wide Angle series and National Geographic On Assignment, and while based in Dakar, Senegal, field produced for Associated Press TV News (APTN). His documentary and narrative films have appeared on RAI-TV-Italy, NHK-TV Japan, and on Northwest Airlines as part of the Independent Feature Project's Independents-in-Flight series.

Contact Information:
E-mail: toeducateagirl@gmail.com
Web site: www.toeducateagirl.com