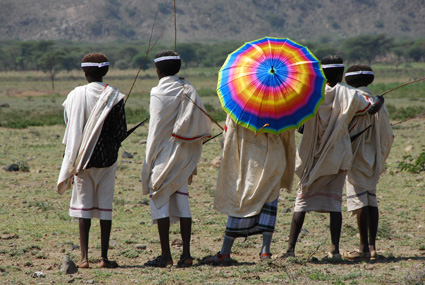 Jeans and Martò
(52 minutes) Ethiopia/Italy
Directors: Clio Sozzani, Claudia Palazzi
Producer: Federico Schiavi
Description:
Jeans and Martò tells the story of a young Ethiopian pastoralist who escapes his arranged marriage to fulfill a dream. Roba, 23-years-old, comes from a remote pastoralist Ethiopian village. Belonging to the Karrayu clan, this young man grew up among the herders and their camels. From the day Roba was born, his path was a matter of tradition. However, his determination to create his own path will lead him toward very surprising destinations and through a series of amazing events: an escape from an arranged marriage, the hatred within a family, the internal doubts of a young "fighter," the hope for reconciliation, a terrible drought in the Karrayu lands, the loneliness of city life, an unexpected journey to Italy, the death of his brother killed in an ethnic conflict, and the coronation of the big dream––achieving a degree. Jeans and Martò reveals the complexity of the Ethiopia of the new millennium, caught between modernity and tradition, pastoralist and urban lifestyles, and old and new generations that struggle to adapt to rapid transformation. Roba's unique and privileged point of view provides a new way of considering a burning issue, namely how tradition and modernity can work together in building a better future.
Biography:
Clio Sozzani is anthropologist and filmmaker. Since 2005 she has worked on developing projects in Africa, and as the film director for different international production companies and nonprofit organizations. Together with Claudia Palazzi she co-directed two short documentaries, In Benito's Land and Memories from Crespi d'Adda. Jeans and Martó is Clio and Claudia's first feature.
Claudia Palazzi is a sociologist and filmmaker. In 2008 she wrote a series of documentaries for the TV series Erotika Italiana and Addiction, broadcast on Cult 131. For the last two years she has been working for Endemol Production and Realizad TV series broadcast on channels such as Italia 1 and Rai 2.
Contact Information:
Suttvuess
E-mail: production@suttvuess.it
Web site: www.suttvuess.com