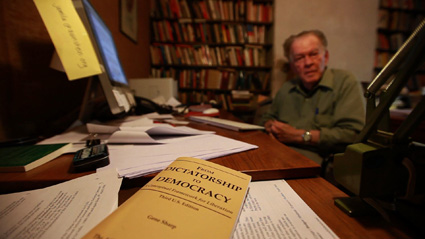 How to Start a Revolution
(87 minutes) China/Egypt/Georgia/Iran/Korea/Serbia/Syria/UK/Ukraine/USA/Venezuela
Director: Ruaridh Arrow
Producer: Richard Shaw
Description:
How to Start a Revolution reveals the remarkable story of the modern revolution, the power of people to change their world, and the man behind it all. Quiet, unassuming, softly spoken and barely known to the wider world, 83-year-old professor Gene Sharp has written the standard textbook for revolutionary leaders around the globe. Used by activists from Serbia to Egypt, from Ukraine to Syria, one of Gene's most important books From Dictatorship to Democracy is nothing less than a handbook of 198 strategic "weapons" that are used to topple dictators. Banned in many countries, his work has influenced a generation of revolutionary leaders who yearn for democratic freedom in Asia, throughout Eastern Europe and in the Middle East. This film explores how, in a few short years, a new wave of revolutionary spirit has swept across the world through a network of international activists, trainers and teachers. It reveals how the leaders of an uprising in one country train and inspire the participants in the next and explores how social media now threatens dictators around the globe in ways that were unimaginable just a decade ago. The film meets revolutionary leaders from Serbia, Ukraine, Egypt and Syria as they explain how they struggled to seize democratic power from the hands of dictators. And, as the world's headlines turn once again to Egypt in autumn 2011 for the first presidential elections, How to Start a Revolution is an inspiring exploration of the power of people to change their world.
Biography:
Ruaridh Arrow trained as a newspaper journalist before moving to Sky News as a producer and then to Channel 4's Dispatches program. He has also produced programs for BBC News, More4 News and The Financial Times. While filming in Cairo he reported for the BBC from Tahrir Square during the Egyptian revolution.
Richard Shaw is head of development at Lion Television, one of the UK's largest and most respected factual independent production companies. He was co-producer on Tanaz Eshaghian's highly-charged film Be Like Others, a portrait of a generation of young Iranians undergoing gender reassignment surgery in Iran, which was nominated for the Grand Jury Prize at Sundance. He devised and developed Britain From Above with Andrew Marr and created the travel series Rough Guide for C5, among others.
Contact Information:
E-mail: rickshaw@gmx.com
Web site: www.howtostartarevolutionfilm.com
Distributor: www.tvfinternational.com