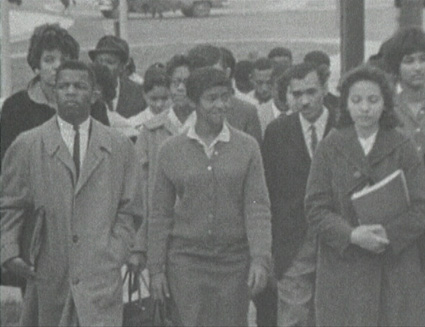 We Shall Not Be Moved: The Nashville Sit-ins
(11 minutes) USA
Directors: Dave Porfiri, Linda Duvoisin
Producer: Dave Porfiri
Description:
The Nashville Sit-ins of 1960 were among the most important events of the Civil Rights Movement. Over a period of several months, college students from Fisk University and other schools staged very well organized, nonviolent protests at downtown lunch counters. The protests caught the city's white establishment off guard and culminated in the mayor agreeing to end segregation of lunch counters while facing thousands of protestors gathered on the steps of City Hall and the eyes of the nation watching. It was just the first step in ending segregation in all facets of life throughout the city and it inspired similar movements throughout the South.
Biography:
Dave Porfiri is an award-winning filmmaker and television producer, a veteran film educator and a partner in Mindflow Media, a Chattanooga-based film and television production company that produces programming for national TV networks, TV commercials, independent documentaries and videos for corporations and nonprofits. He has won over ten major national peer awards, including several Tellys and Cine Golden
Eagles and has been twice nominated for a regional Emmy. His twenty-five years of production experience includes ten years working on feature films in Los Angeles. His television credits include work with National Geographic, Discovery Channel, PBS and other major networks. He is also the founder and lead instructor of the Professional Film and Television Training Program at Chattanooga State.
Linda Duvoisin is a partner at Mindflow Media. She is a seasoned documentary filmmaker and has worked for public television, Walter Cronkite, National Geographic, and Discovery Networks, among others over the course of her twenty-year career. During that time, she has won numerous awards and accolades including an Individual Artist Grant for filmmaking from the Tennessee Arts Commission, several CINE Golden Eagles, a Silver Telly and two regional Emmy nominations.
Contact Information:
Mindflow Media
E-mail: dpvision@yahoo.com
Web site: www.mindflowmedia.com