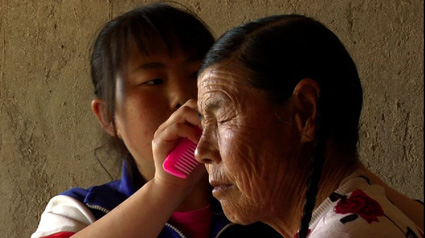 Restoring the Light
(55 minutes) China
Director/Producer: Carol Liu
Description:
Restoring the Light is an hour-long documentary about the spirit of hope and resilience of several rural families in China. A dedicated rural eye doctor sells his home to establish an independent practice and runs a mobile clinic for the under-served. A young woman, despite a debilitating bone infection, pursues her dream to attend university and become an artist. Her grandmother, who has lived in a cave dwelling for over sixty years, toils in the field even though she has lost her vision to cataracts. A young boy aspires to become a truck driver and maintains optimism in spite of his blindness.

As each family negotiates their dreams with reality, a brave journey of the human spirit unfolds, one that honors the power of individual will and seeks to inspire compassion for greater social change.
Biography:
Carol Liu (writer/director/producer) was born and raised in Los Angeles, California and spent her formative summers in China during her childhood. She graduated from Stanford University with a major in English Creative Writing, and later received her MFA in writing and directing from New York University's Graduate Film Program, where she was awarded the Dalio Family Foundation Scholarship and Tisch Scholarship. Upon completing her MFA coursework, Carol moved to China to concentrate on developing Chinese stories for a world audience. She studied Classical Chinese and Modern Chinese Literature at Tsinghua University's Inter-University Language program in between producing Restoring the Light, her first feature project. Carol currently makes her home between Los Angeles and Beijing, China, developing documentary and narrative feature projects.
Contact Information:
E-mail: info@restoringthelight.com
Web site: www.restoringthelight.com