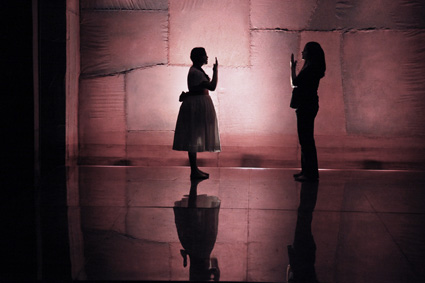 TRUST: Second Acts in Young Lives
(78 minutes) Honduras/USA
Director: Nancy Kelly
Producers: Nancy Kelly, Kenji Yamamoto
Description:
Moving, intimate, and celebratory, TRUST: Second Acts in Young Lives follows the teenage actors of Chicago's Albany Park Theater Project as they transform through courage, storytelling and community. TRUST begins in a small theater as a group of teenage actors receive a standing ovation. The film then takes us back to the beginning, when Marlin, an 18-year-old Hondureña shares a little bit about her childhood with the company. It is a traumatic story. Amazing things unfold as the young actors make the story into a daring, original play. TRUST is about creativity and the unexpected resources inside people who are often discounted because they are poor, young, or of color. TRUST is the third in a documentary trilogy by Marin filmmakers Nancy Kelly and Kenji Yamamoto about the unexpected roles art plays in the lives of individuals and communities.
Biography:
Nancy Kelly has been making independent fiction and nonfiction films for more than twenty-five years. Kelly's award-winning documentary Smitten (PBS Prime Time Special, 2006)enters the world of Rene di Rosa, who is smitten by art. Nancy also wrote, produced and directed the hour-long documentary Downside Up, which captures the beginnings of America's largest museum of contemporary art, the Massachusetts Museum of Contemporary Art and the rebirth of its host-city, North Adams, Massachusetts. She also produced and directed the award-winning short documentaries Cowgirls and Sweeping Ocean Views and coproduced and directed A Cowhand's Song.
With KRCB public television, she is currently in production onMoments in Time, the dramatic story of how the lands of the Point Reyes National Seashore and Golden Gate National Recreation Area were saved from development.
As a partner in Kelly+Yamamoto Productions, Kenji Yamamoto produced and edited the documentaries TRUST: Second Acts in Young Lives, Smitten and Downside Up. He also produced and edited the narrative feature film Thousand Pieces of Gold. Independently of Kelly+Yamamoto Productions, Kenji has edited many films. Most recently he edited the documentary feature New Muslim Cool, the opening program of the 2009 PBS POV season.
Contact Information:
Kelly+Yamamoto Productions
Web site: www.trustdocumentary.org