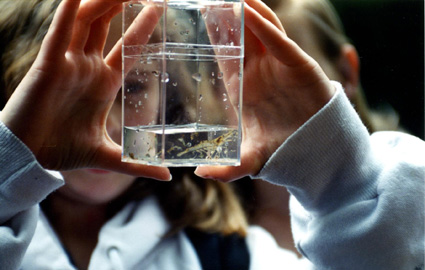 A Simple Question­—The Story of STRAW
(35 minutes) USA
Directors/Producers: David Donnenfield, Kevin White
Description:
A Simple Question is the story of the STRAW project—Students and Teachers Restoring a Watershed. This thirty-minute film recounts how an inspired teacher and her fourth grade class took up the challenge of saving the endangered California freshwater shrimp living in streams on private land. With no practical knowledge of environmental restoration, Laurette Rogers and her fourth grade class undertook its rescue by restoring creek side habitat on the property of local ranchers. Sixteen years later, the original class project is now a beloved, award-winning regional program that has involved thousands of kids, classroom teachers, numerous landowners, scientists, and government agencies in a community-based effort that to date has restored almost twenty miles of streamside habitat.
Biography:
David Donnenfield received his bachelor's degree in film from UCLA and his master's in educational technology from SF State University. He was on staff in Sacramento at the California State Department of Education as a filmmaker until moving to San Francisco in 1980. David worked on numerous programs for the syndicated TV magazine programs PM Magazine and Evening Magazine. He also served as assistant producer for the Academy Award–nominated documentary Eight Minutes to Midnight, profiling anti-nuclear activist and pediatrician Dr. Helen Caldicott. He has produced numerous TV, educational and environmental programs. In 2009, he and Kevin White were awarded the Harold Gilliam Award for Excellence in Environmental Journalism by The Bay Institute for their film A Simple Question—The Story of STRAW.
Kevin White received a bachelor's degree in philosophy at the American University in Paris and graduate school at Stanford and San Francisco State. Kevin White worked as a freelancer for Granada Television, CBS news, KEMO Television and other broadcasters. In 1984 Kevin started Full Frame Productions, a full service commercial film and video production company. In 1988 he was a founding member of Filmmakers Collaborative San Francisco, a nonprofit organization with a mission to produce innovative films and public information campaigns that foster education, awareness, and civic participation to help create a more sustainable, peaceful and just world.
Contact Information:
Filmmakers Collaborative
E-mail: info@filmmakerscollaborative.org
Web site: www.asimplequestion.org