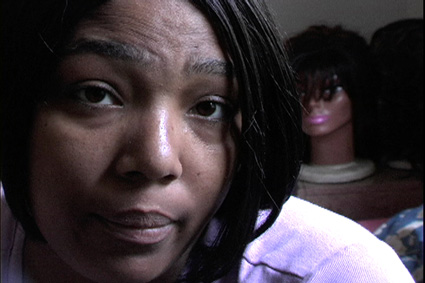 How Do You Tell Somebody That You're HIV+?
(14 minutes) USA
Director/Producer: Hima B.
Description:
How Do You Tell Somebody That You're HIV+? follows a day in the life of Haneefa, a young African American woman from New Jersey, as she struggles to disclose her HIV+ status to the father of her daughter. As Haneefa travels to refill her AIDS medication, she reflects on how her quality of life is sustained through Medicaid, a free healthcare program for low-income individuals. How Do You Tell Somebody That You're HIV+? is a part of HIV Sisters, an online living HIV/AIDS quilt by and for women and girls who are infected, impacted and at risk for the virus.
Biography:
Hima B. was born in India and raised in America, a product of cultures that often clash. She earned her MFA in multimedia from Mills College and now lives and works in New York City as an independent filmmaker making social-issue based documentaries and narrative films, which focus on the experiences of LGBTQ people, women and girls and people of color. In 2009, Hima launched HIV Sisters, and she plans to expand this project to become a global, online, interactive public arts project where online users create, upload and share their personal stories into the quilt. Hima is currently in production on her first feature length documentary License to Pimp, which chronicles three exotic dancers and the choices they made when their strip clubs became brothels.
Contact Information:
E-mail: himaphiliac@yahoo.com
Web site: www.himab.com