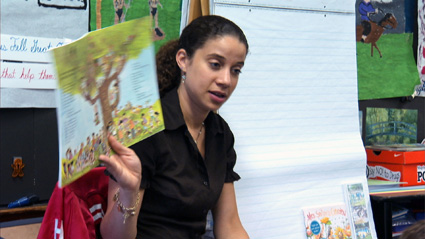 American Teacher
(80 min) USA
Directors: Vanessa Roth, Brian McGinn
Producers: Nínive Calegari, Dave Eggers, Vanessa Roth

Description:
American Teacher narrated by Matt Damon chronicles the stories of four teachers - Erik Benner, Jonathan Dearman, Jamie Fidler, and Rhena Jasey - who live and work in disparate urban and rural areas of the country. By following these teachers as they reach different milestones in their careers, the film tells the deeper story of the teaching profession in America today. The film shows us the experience of these four young teachers as they recognize the importance of what they do, and how much they love what they do, but ask: can I afford to continue to teach?
Biography:
Vanessa Roth is an artist and advocate whose documentary films have won many awards including an Academy Award. Her work has been broadcast nationally on PBS, HBO, the Discovery Channel, A&E, and the Sundance Channel, and appeared on Oprah, NPR, and as part of the Youth Inaugural Events in Washington DC. Her films include Taken In: The Lives of America's Foster Children, Close to Home, Aging Out: Schools of the 21st Century, The Third Monday in October, 9/11's Toxic Dust, Freeheld and No Tomorrow.
Nínive Calegari is a veteran teacher, and the cofounder and former executive director of 826 Valencia, a literacy nonprofit that galvanizes volunteers in eight cities to support teachers and help students improve their writing skills. Ninive is a co-author of the New York Times bestselling book Teachers Have It Easy: The Big Sacrifices and Small Salaries of America's Teachers.
Dave Eggers is the author of six books: A Heartbreaking Work of Staggering Genius, You Shall Know Our Velocity!, How We Are Hungry, Teachers Have It Easy, What Is the What, and Zeitoun. He is cofounder of 826 Valencia. In 2004 he co-taught a class at the UC Berkeley Graduate School of Journalism, out of which grew the Voice of Witness series of books.
Brian McGinn has had his film work featured on ESPN's Sportscenter, Current TV, MySpace, Gawker, Defamer, Wired.com, and Wholphin. His third documentary, The Frozen City, which he created, produced, and edited, premiered at the AFI Film Festival. Most recently, he worked with Emmy Award-winner Gary Hawkins on a documentary about Thelonius Monk, In My Mind.
Contact Information:
The Teacher Salary Project
E-mail: emily@theteachersalaryproject.org
Web site: www.theteachersalaryproject.org