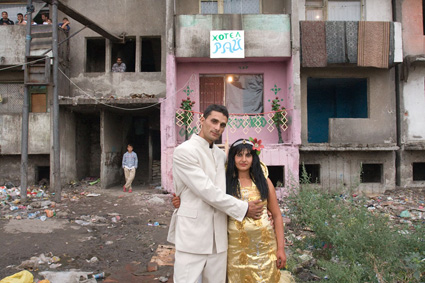 Paradise Hotel
(54 minutes) Bulgaria
Director: Sophia Tzavella
Producer: Martichka Bozhilova
Description:
The young Demir dreams of a wedding, but his Roma tower block at the outskirts of a provincial town in Bulgaria is no place for romance. Twenty-five years ago it had all it needed to be a socialist heaven from parquet floors, an intercom, coveted hot water, and street lamps to benches under blossoming apple trees. Someone called the place "Paradise Hotel"––and the name stuck. But over the years the block gradually changed. The parquet disappeared. The water stopped. The lights went off. But each of the 1,500 inhabitants has a plan for how to get back the dream of paradise lost. And if you cross the field behind Paradise Hotel where heaven and earth meet, you will see Bozhidar, "The God Given," who protects everyone from evil and excessive happiness in a documentary about integration, love, misery, a lot of dreams, a few lyrics and one Gypsy wedding.
Biography:
Sophia Tzavella is an unconventional TV journalist, scriptwriter and director. Having worked as an author for the Bulgarian National Television for five years, Sophia is well known for her "thorough irony and philosophical, enchanting way of highly professional storytelling." She has won multiple honors and prizes, including the First Prize Golden Umbrella in the TV news and documentary sector. Sophia was honored in 2006 by the Greek Embassy in Sofia to represent Bulgaria in the World Conference for Journalists of the Greek Diaspora.
Martichka Bozhilova has been a producer for AGITPROP since 1999. Her films include the internationally awarded Georgi and the Butterflies, The Mosquito Problem and Other Stories, and Corridor #8, as well as See You at the Eiffel Tower, which premiered at IDFA. She received the International Trailblazer Award, launched by Robert Redford and Sundance Channel at MIPDOC in Cannes for creativity, innovation, originality and breakthrough in the field of documentary cinema.
Contact Information:
East Silver
E-mail: zdenek@eastsilver.net
Web site: www.eastsilver.net/en/east-silver/news/dmz-docs-with-paradise-hotel-in-competition-1707