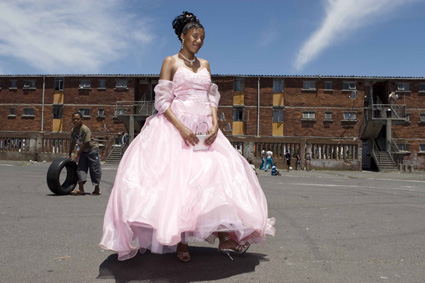 Shanty Town Cinderellas
(10 minutes) South Africa
Director: Benitha Vlok
Producer: Grant Cummings
Description:
It's prom night for the teenagers in one of Cape Town's poorest and roughest townships. Parents overcome real hardship and poverty to see their kids through to the end of their education––one of the few routes out of township life.
Biography:
Benitha Vlok is a Cape Town based documentary filmmaker skilled as a director, camera operator and FCP editor. Devoted to the documentary and factual genres, her main interest lies in culture, art and people driven stories. Having traveled extensively between South Africa, UK and the US since 2005, Benitha has applied her multitude of talents to a wide range of local and international broadcast productions. Apart from her broadcast credits she has actively produced, directed, shot or edited short films, live music videos, behind-the-scenes documentaries and show reels.

Grant Cummings is a London based producer and founder of Cling Film productions. Although he works across all genres he has always had a passion for documentaries. Shanty Town Cinderellas is Cling Films debut documentary.
Contact Information:
Cling Film
E-mail: hello@clingfilm.tv
Web site: www.clingfilm.tv