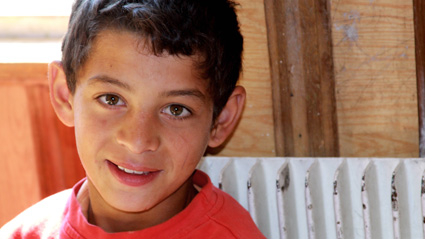 Our School
(94 minutes) Romania
Directors: Mona Nicoara, Miruna Coca-Cozma
Producers: Mona Nicoara, Miruna Coca-Cozma, Julie Goldman
Description:
Three Roma ("Gypsy") children from a small Transylvanian town participate in a project to desegregate the local school, struggling against indifference, tradition and bigotry with humor, optimism and sass. Our School is a captivating, infuriating, yet often funny story about hope and race.
Biography:
Mona Nicoara has been a human rights activist since the 1989 Revolution that overthrew Ceausescu regime in her native Romania. She started working film as an associate producer for Edet Belzberg's Academy Award-nominated Children Underground.
Miruna Coca-Cozma is a graduate of the BBC School of Journalism and of the Romanian Theatre and Film Academy. She has worked as a journalist for Antena 1, TVR, TSR and France 5. Her most recent project is Omar Porrs: Sorcier De La Scene for TSR.
Julie Goldman has produced, among others, Sundance winner Sergio, which was nominated for an Emmy and short-listed for the 2010 Documentary Feature Academy Award, and Sundance winner Buck. She was a consultant for the Academy Award-winning film The Cove.
Contact Information:
Sat Mic Film
E-mail: mona.nicoara@gmail.com
Web site: http://ourschoolfilm.blogspot.com