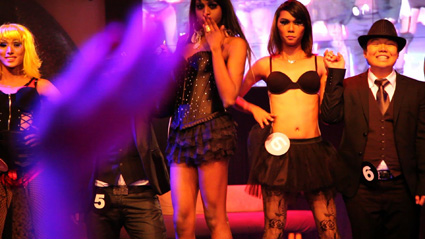 Transit
(10 minutes) Singapore
Director: Gina Tan
Producers: Gina Tan, Dan Duran, Haley Quartarone, Emily Manheim, Juvia Chua, Eysham Md Ali
Description:
Movements reflect the soul in more ways than one. Not only do dance and music explore a character in a story, they also creatively shape an emotion and passion. The passion for life, despite a strict traditional culture, separates Sri Alif as one unique individual. Sri, an aspiring dancer, comes to grips with the difficult consequences of being an outcast in his culture and within his own family by engaging in a lifestyle that is socially unacceptable and a taboo in his country of Singapore.
Biography:
Dan Duran is a TV and broadcast journalism major with an emphasis in documentary production at Chapman University. Beyond the United States, Dan has worked on international documentaries such as the short Transit, which he shot and edited in Singapore about a transgender dancer, which won Documentary of the Year for Chapman University's 2011 Cecil B. Demille Awards.
Haley Quartarone has always loved traveling abroad and using the film medium as a way to express and document the new cultural traditions and places she has learned about. She currently works as production coordinator for Jeff Cole Productions in Orange County, California. Haley is a third year television broadcast journalism and film student with an emphasis in documentary at Chapman University.
Born in the Bay Area, Emily Manheim has been surrounded by the LGBT movement since she was a child. She is a creative production major at Chapman University and she hopes to become an independent film producer as soon as she graduates college.
Juvia Chua initially wanted to venture into the fields of advertising and photojournalism, thus her decision to study mass communication at Ngee Ann Polytechnic in Singapore, and a television production module in her second year at the polytechnic cemented her passion and interest in this area. She is a producer of the short film Transit.
Contact Information:
E-mail: duran110@mail.chapman.edu
Web site: www.ftv.chapman.edu/life/blogs/dodge_college/2011_cecil_award_winners