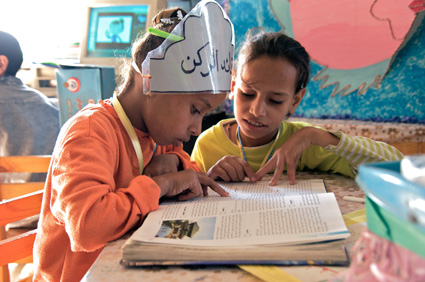 Raising Yusriya
(23 minutes) Egypt
Director: Alissa Shapiro
Producer: James Blue
Description:
In upper Egypt, a community school has emerged as a strong example of how a child-friendly school approach has provided access and quality education to the children of the rural farming village of Abu Teeg, especially for girls. Thirteen-year-old Yusriya began school four years ago when Abu Teeg opened a single classroom in her village. Yusriya's portrait features a common story for this village: her parents are uneducated, and her older brothers have some schooling, having been allowed to attend a formal government school. Yusriya's older sisters were not allowed to attend due to the distance. With community mobilization and strong support from the ministry, UNICEF and other partners address the needs of the village and provide it with the sanitation facilities, curricula and motivated teachers that help it prosper. Girls in Abu Teeg are being educated for the very first time providing them with the confidence and ambition that allow them to dream of better lives for themselves and their families.
Biography:
Alissa Shapiro is a producer at Public Affairs Media Group where she works on a range of projects including character-driven stories, live events and branded content productions. Alissa has a strong journalism background, with extensive experience in broadcast and online media. She previously served as the operations director for the Huffington Post Investigative Fund, an online start-up, after working with the Koppel Group at the Discovery Channel. At Discovery, Alissa field produced the four-part series The People's Republic of Capitalism. Alissa has a bachelor's in history from Northwestern University.
James Blue is the founder of PAMG, where he serves as executive producer and oversees the firm's many productions. After graduating from the Woodrow Wilson School of Public and International Affairs at Princeton University, James began a journalism career that has been marked by extensive overseas reporting. James spent fourteen years as a producer for ABC News and NBC News and over the course of his career has won eight national Emmy Awards, two Alfred I. DuPont-Columbia Awards and two George Foster Peabody Awards.
Contact Information:
Public Affairs Media Group
E-mail: info@publicaffairsmediagroup.com
Web site: www.publicaffairsmediagroup.com