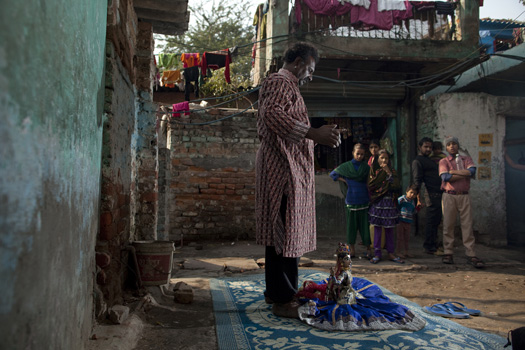 Wednesday 10/22, 7:30 PM (Session 20)
Directors/ Producers: Jim Goldblum, Adam Weber
Description:
Kathputli is a place of fading traditions. For half a century 2,800 artist families have called its narrow alleyways home; there are jugglers and acrobats, puppeteers and painters, folk singers and magicians, many of whom are well-respected artists in India and abroad. In 2009 the New Delhi government sold Kathputli to developers for a fraction of its worth. The land is to be bulldozed to make room for the city's first-ever skyscraper, The Raheja Phoenix. The film follows three of Kathputli's most-talented performers as they wrangle with the reality of their approaching eviction.
Biography:
Jimmy Goldblum began his career as an interactive director and producer. In 2008, Goldblum won the Emmy for New Approaches to Documentary for Live Hope Love, an interactive documentary he produced for the Pulitzer Center on Crisis Reporting. Goldblum also wrote, filmed and produced The Institute for Human Continuity (2012), an online narrative for Sony Pictures, which is widely considered one of the most successful transmedia campaigns of all time. Additionally, CNN called Goldblum's first interactive documentary, Yearbook 2006, "so special…the best of the best" of all Hurricane Katrina documentaries. His projects have won an Emmy and a Webby for Best Art Project, earned a Webby nomination for Best Use of Photography, and won Best Music Website at SXSW Interactive.
Adam Weber is an editor, director, and writer who has worked for major film and TV studios in both New York and Los Angeles. Weber edited Michel Gondry's Is The Man Who Is Tall Happy, an animated documentary about Noam Chomsky, which IndieWire named one of the three best documentaries of 2013. Weber was an assistant editor on Gondry's The Green Hornet, and he previously worked as the apprentice editor on Quentin Tarantino's Inglorious Basterds, which was nominated for an Academy Award for Best Editing.
Contact Information:
e: jimgoldblum@gmail.com
w: www.twdfilm.com
©2014 United Nations Association Film Festival (UNAFF)