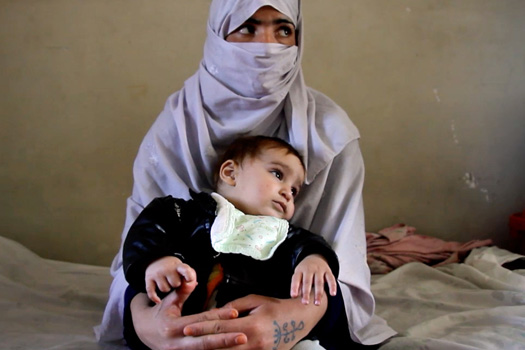 Monday 10/20, 4:00 PM (Session 13)
Director/Producer: Zohreh Soleimani
Producer: Sharon Tiller
Description:
Today, there are over 800 young Afghan women imprisoned for so-called 'moral crimes.' These crimes include running away from unlawful forced marriages and domestic violence, or simply falling in love and marrying against a father's wishes. This is the story of one of these women. When Soheila was only five, she was given away in marriage to an old man in compensation for her older brother's crime: stealing his young third wife. When she ran away from the abusive marriage, her father had her arrested and imprisoned. Soheila is finally freed by an amnesty decreed by President Karzai. We meet her again in a safe house in Kabul where she is protected from the father and brother who threaten to kill her if she attempts to rejoin the father of her child. The father also demands that she kill her three-year-old son to restore the family's honor.
Biography:
Zoreh Soleimani is an Iranian photojournalist who spent three years documenting the plight of women imprisoned for moral crimes in Afghanistan. She has reported on human rights issues, particularly affecting women, for more than a decade. To Kill a Sparrow is Soleimani's first documentary film. Her previous work has been as a still photographer.
Sharon Tiller is the executive producer for special projects at The Center for Investigative Reporting. She came to CIR in 2011 from the PBS documentary series FRONTLINE, where she was a senior producer from 1995 to 2010. As senior producer, she helped develop and produce numerous award-winning programs, including the four-part special Drug Wars and News War, a multi-part series on the crisis in the media industry. In 2001, she helped create and launch the international news magazine Frontline/World, the series featured the work of a new generation of video journalists and completed nine critically acclaimed seasons on PBS. Prior to FRONTLINE, Tiller spent nearly a decade at CIR, first as program director and then as executive director, where she launched an investigative documentary unit. She has been honored with every major television broadcast award, including numerous duPonts and Emmys, the Overseas Press Club Award, a Peabody and a George Polk Award.
Contact Information:
e: cirfilms@cironline.org
w: www.zsoleimani.com/film
©2014 United Nations Association Film Festival (UNAFF)