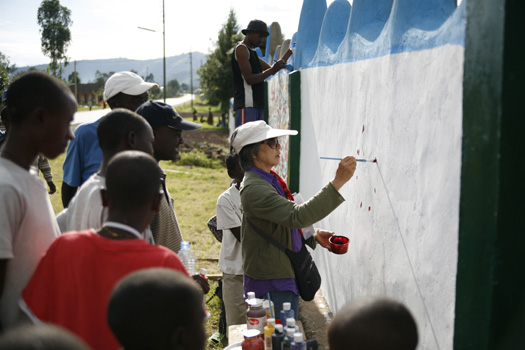 Friday 10/24, 8:30 PM (Session 23)
Directors: Glenn Holsten, Daniel Traub
Description:
Lily Yeh is a global artist who is fueled by a belief that art is a human right, and that artists can create a foundation for profound social change. Slight of frame, but large in spirit and vision, the 70-year-old artist was born in China, lives in Philadelphia, and now, as constant traveler, the world is her canvas. The film explores two sides of Lily's life that are connected parts of the same journey: her international ventures helping to heal weakened spirits in communities around the world and a personal journey within, to repair her own fractured family.
Biography:
Glenn Holsten has been documenting Lily's work since the mid 1980's when he shot a short film for public television about the Village of Arts and Humanities in North Philadelphia. He recently toured the festival circuit with OC87: The Obsessive-Compulsive, Major Depression, Bipolar, Asperger's Movie, a documentary about recovery from the depths of mental illness through filmmaking. His Saint of 9/11, a biography of Father Mychal Judge, premiered at the Tribeca Film Festival. Other recent documentary films include JIM IN BOLD, which harnesses the power of young voices to reveal the challenges and triumphs of being young and gay in America; Thomas Eakins: Scenes from Modern Life, a lyrical examination of America through the eyes of the 19th century painter.
Daniel Traub is a Brooklyn-based filmmaker and photographer. As a filmmaker, Traub recently completed the feature length Barefoot Artist about Lily Yeh and her collaborative artworks in war-torn communities; and Xu Bing: Phoenix, about the Chinese artist Xu Bing's Phoenix project, which highlights the condition of Chinese migrant laborers. Additionally, he has been the director of photography for numerous documentaries including PBS, German Television ZDF and Arte. Traub's photographs have been exhibited internationally, including solo exhibitions at the Catherine Edelman Gallery in Chicago and the Print Center in Philadelphia, and are in public and private collections such as the Margulies Collection at the Warehouse and the San Francisco Museum of Modern Art.
Contact Information:
Itinerant Pictures
e: mail@danieltraub.net
w: www.barefootartistmovie.com
©2014 United Nations Association Film Festival (UNAFF)