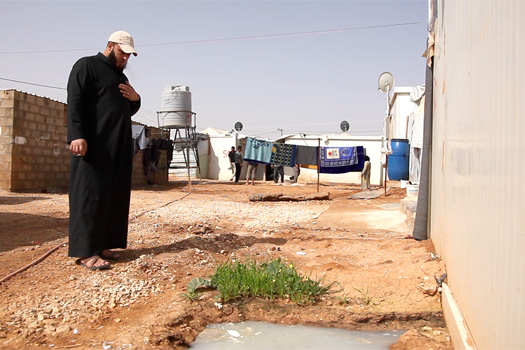 Growing Home




(22 min) Syria/US



Saturday 10/25, 5:40 PM (Session 26)
Director: Faisal Attrache
Producers: Heidi Hathaway, Faisal Attrache
Description:
Amid Syria's refugee crisis that has displaced nine million people, a Syrian barber struggles to maintain normality in the Zaatari refugee camp.
Biography:
Faisal Attrache is a Syrian-American filmmaker born in Syria and raised in the San Francisco Bay Area. He attended UCLA where he received his bachelor's degrees in international development and environmental studies. While at UCLA he became interested in film and began acting in various student projects. He realized that he wanted to be behind the scenes, and by his final year he had added a film and television minor to his studies and was set on pursuing a career in film. After graduating, Faisal spent a year living in Syria where he made his first short film. Upon returning to the United States, Faisal attended the University of Southern California's prestigious School of Cinematic Arts where he received his MFA in film and television production. He received the Best Director award at the 2013 Beirut 48 Hour Film Festival and his films have been screened at USC and film festivals. Faisal is a writer/director who strives to tell unique stories across many genres, with a powerful, socially conscious message.

Heidi Hathaway is a producer/director who started her education in theater, both on stage and behind the scenes. In college, she fell in love with film through her work in the art department on television and independent features such as Veronica Mars (UPN), Little Chocolatiers (TLC), High School Musical 3 (Disney) and Forever Strong (Go Films). She produced and directed short format documentaries and a series, Legends, for Brigham Young University Broadcasting before starting her MFA in film production at the world-renowned University of Southern California School of Cinematic Arts. While at USC her films featured strong, female protagonists dealing with issues of body image, surrogacy, homosexuality and family dynamics. After graduating, she continues to create films that give a voice to underrepresented populations.
Contact Information:
e: fattrache@gmail.com
©2014 United Nations Association Film Festival (UNAFF)