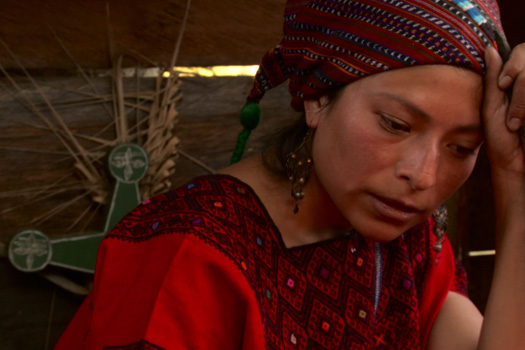 Heart of Sky, Heart of Earth




(98 min) Germany/Guatemala/Mexico/US

[watch trailer]

Wednesday 10/22, 8:05 PM (Session 18)
Directors/Producers: Frauke Sandig, Eric Black
Description:
The ancient Maya believed this present world would end and a new cycle arise after 5125 years. How does the story end? Does the water change color? Do the oceans collapse? Does the sky fall as the last tree is cut? Heart of Sky, Heart of Earth allows the Maya of today to answer, following six young Maya in Guatemala and Chiapas through their daily and ceremonial life, revealing their determination to resist the destruction of their culture and environment.
Biography:
Eric Black attended schools in Columbus, Ohio and Florence, Italy. He graduated with a triple-major in photography, political economy and anthropology with honors at the University of California, received the Chancellor's Award for Art for his photographs of Northern Ireland and attended the Cinema Department at San Francisco State University. The first film he shot (also in black and white) won the Student Academy Award for Western States. He has shot many documentaries since and worked twice with the American Director Jon Jost in Rome. He was awarded a stipendium at the Academy of Arts in Berlin. He is currently in the process of publishing a book of his black and white photographs.
Frauke Sandig was born in Germany. After studying drama and German literature in Erlangen, she worked as a television producer and documentary director of more than thirty documentaries, including In the Same Boat, When Hitler Stole Pink Rabbit, The Man Who Fell From Germany, Krakow - Stories of a City, the documentary series Strangers - Young Immigrants in Germany, which was nominated for the Adolf Grimme Award in Germany and Guardians of the Rainforest – Mascha Kauka in Amazonia (Deutsche Welle). Her feature length documentary Oskar & Jack told the story of twins, separated at birth, who grew up in completely different worlds: one raised as a Jew, the other as a Nazi. The film was screened on numerous international film festivals, shown on public television worldwide and awarded a Golden Gate Award at the San Francisco International Film Festival. She is a member of the German Film Academy.

Heart of Sky, Heart of Earth is their third collaboration together. Their first film, After The Fall (2000), documents the mysterious, disturbing and almost complete disappearance of the Berlin Wall ten years after its fall. The film was awarded the German Camera Prize and a Golden Spire at the San Francisco International Film Festival. Their second collaboration, Frozen Angels (2005), is a startling conduit into the future of the American Dream, where "perfect children" can be added to the shopping list and surveys the field of assisted human-reproductive technologies.
Contact Information:
Umbrella Films
e: umbrellafilms@sandig.com
w: www.heart-of-sky.com
www.facebook.com/heartofskyheartofearth
©2014 United Nations Association Film Festival (UNAFF)