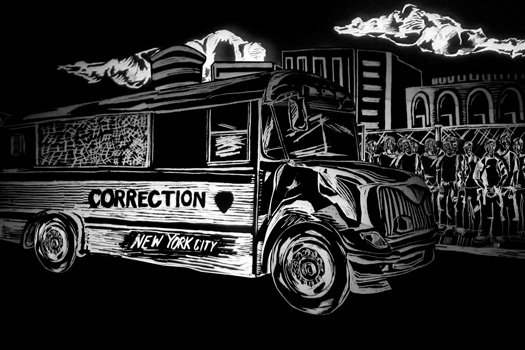 Sunday 10/19, 2:20 PM (Session 10)
Director: Michael Schiller
Producers: Michael Schiller, Daffodil Altan, Marco Villalobos, Trey Bundy
Description:
Every year, thousands of teens are placed in solitary confinement cells in juvenile halls, jails and prisons nationwide. This animation tells the story of Ismael 'Izzy' Nazario and the time he spent in solitary confinement in New York City's Rikers Island jail. This story is based on an investigation by The Center for Investigative Reporting and was created using real audio from an interview with Nazario. Featuring music from Mos Def.
Biography:
Michael Schiller is the senior multimedia producer for The Center for Investigative Reporting. In 2008, Michael produced and directed The Tao of 9 Second Ave which premiered on The Documentary Channel and screened at The New Museum of Contemporary Art. Michael was the director of photography for Joel Schumacher's PSA about Rwanda, and shot the opening segment of Robert Greenwald's documentary Walmart: The High Cost of Low Price. Michael was a camera operator on Director Marc Levin's Protocols of Zion and on Director Jeremy Kagan's The Freedom Files. Michael worked as an editor, producer and writer on Three Thug Mice, an animated short film which won several awards. Michael recently completed his first feature length documentary The After Party (The Last Party 3) that won three "Best Documentary Feature" awards and a "Freedom of Speech Award."
Sharon Tiller is the executive producer for special projects at The Center for Investigative Reporting. She came to CIR in 2011 from the PBS documentary series FRONTLINE, where she was a senior producer from 1995 to 2010 where she helped develop and produce numerous award-winning programs, including the four-part special Drug Wars and News War. Prior to FRONTLINE, Tiller spent nearly a decade at CIR, first as program director and then as executive director, where she launched an investigative documentary unit. She has been honored with every major television broadcast award, including numerous duPonts and Emmys, the Overseas Press Club Award, a Peabody and a George Polk Award.
Contact Information:
The Center For Investigative Reporting
e: cirfilms@cironline.org
w: www.cironline.org/reports/the-box-6137
©2014 United Nations Association Film Festival (UNAFF)