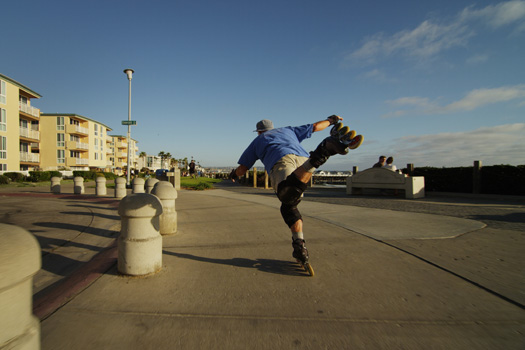 Thursday 10/23, 7:20 PM (Session 21)
Director: Joshua Izenberg
Producers: Joshua Izenberg, Amanda Micheli
Description:
Depressed and frustrated with his life, Dr. John Kitchin abandons his career as a neurologist and moves to Pacific Beach. There, he undergoes a radical transformation into SLOMO, trading his lab coat for a pair of rollerblades and his IRA for a taste of divinity.
Biography:
Josh Izenberg hails from Ann Arbor, where he earned a degree in screenwriting from the University of Michigan. He's since worked as a copywriter, a cab driver, and a carpenter. His fictional films include Albatross (2010), Dads (2010), and Ants and Elephants (2008.) Slomo is his first documentary.
Amanda Micheli is an Oscar-nominated filmmaker and a celebrated cinematographer. Her first film, Just ForThe Ride, won a student Oscar and IDA Award. Double Dare, which followed the struggles of two Hollywood stuntwomen, premiered at Toronto and was an audience favorite at festivals worldwide. La Corona premiered at Sundance and won an Oscar nod before airing on HBO, and is currently in development for adaptation into a fiction feature. Most recently, she directed The Save for ESPN and One Nation Under Dog for HBO. Her other credits include Thin, Cat Dancers, 30 Days, and My Flesh and Blood.
Contact Information:
Big Young Films and Runaway Films
e: josh@raskolfilms.com
w: www.slomothemovie.com
©2014 United Nations Association Film Festival (UNAFF)