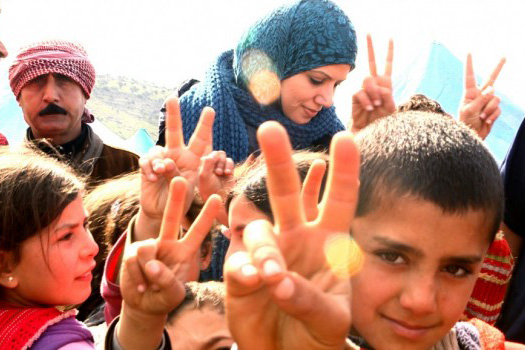 Saturday 10/25, 6:10 PM (Session 26)
Directors: Andrea Kalin, Oliver Lukacs
Producer: Andrea Kalin
Description:
In 2011, when Syria's Bashar al-Assad answered his people's call for freedom with stunning violence, the outside world looked away. While the US drew red lines for intervention, Assad ramped up his attacks targeting journalists and blocking humanitarian aid to millions of victims. As the destruction of civil war raged on, citizens stepped up to fill the roles of banned journalists, aid organizations and governments. The film follows two such young activists—armed only with cell phones, laptops, dogged dedication, and some key global contacts—as they devise smuggling routes, broker weapons deals, challenge extremism, and seek to persuade foreign policymakers of the democratic Syria that's within reach if the world will only allow it.
Biography:
Andrea Kalin, founder of Spark Media, earned more than seventy industry awards, including a Primetime Emmy, and Golden Globe and WGA nominations. Andrea's filmography includes: Worlds of Sound, narrated by Pete Seeger, and Soul of a People: Writing America's Story featuring Patricia Clarkson. Andrea directed the theatrical release, Allah Made Me Funny, and the award-winning films Talking Through Walls and The Pact. The Mos Def narrated Prince Among Slaves won the American Black Film Festival's coveted Best Documentary award. Kalin's debut, Partners of the Heart, narrated by Morgan Freeman, aired on PBS's "American Experience," won the Erik Barnouw Award for Best History Documentary.
Oliver Lukacs is the co-director, editor and director of photography for Red Lines. Previously, he was a producer, director of photography and collaborating editor on No Evidence of Disease and associate producer and assistant editor on Soul of a People: Writing America's Story. He is currently co-directing a film that profiles the Gerald Bataille neighborhood of Port-au-Prince, Haiti and directing the national video campaign of the LA-based graffiti artist collective SURVIVE. Prior to his film work, Lukacs graduated from UCLA and was a freelance journalist who wrote for The Lookout, LA Weekly, Washington City Paper and WTOP Radio.
Contact Information:
Spark Media
e: andrea@sparkmedia.org
w: www.redlinesfilm.com
©2014 United Nations Association Film Festival (UNAFF)