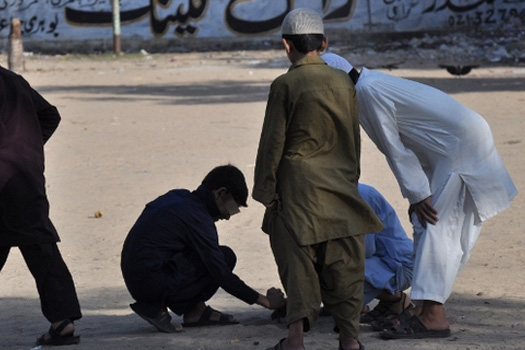 Sunday 10/26, 2:00 PM (Session 28)
Director: Mohammed Naqvi
Producer: Jamie Doran
Description:
"How many kids have you raped?" "About eleven or twelve kids...between eight and ten. No older than that." Ejaz, bus conductor. In towns and cities across Pakistan, tens of thousands of young boys have become the victims of pedophile predators with nothing to fear from the law. It's an open secret that few acknowledge and even fewer want to do anything about. In a society where women are hidden from view and young girls deemed untouchable, the bus stations, truck stops and alleyways have become the hunting ground for perverted men to prey on the innocent. "It's one of the most sad and shameful aspects of our society. I have to say I'm totally embarrassed by this" Imran Khan, world-famous cricketer and leading Pakistani politician.
Biography:
Mohammed Naqvi is an internationally celebrated filmmaker whose films have won over twenty-five prestigious awards and honors, and have been showcased in different film festivals and at venues including the Museum of Modern Art and the UN. His documentary credits include Shame (CBS-Paramount/ Showtime), Shabeena's Quest (Al-Jazeera), and Terror's Children (Discovery-Times Channel). Currently he is directing Among the Believers and Pride about the former Pakistani president General Pervez Musharraf in co-production with Impact Partners. Mohammed is also the founder of MuNan Pictures, an independent production house which has developed programming for CNN, MTV, Current TV, New York Times TV, Oprah Winfrey's Harpo Productions.
Jamie Doran has worked for the television film production over the past thirty years. His achievements in the international arena include Battle for Syria; The Dancing Boys of Afghanistan; Africa Rising; Al Qaeda in Yemen; Skeletons Have Names and the controversial biography of Yuri Gagarin, the first human being in space. His awards include two Emmy Awards, the OPCA, the Alfred I DuPont Award; the History Makers Award for Best Current Affairs Documentary; One World Media MDG Award; BAFTA nomination for Best Documentary; AIB Award for Best Current Affairs Documentary; UNAFF (United Nations Association Film Festival) for Best Documentary Award.
Contact Information:
Clover Films
e: tracey@clover-films.com
w: www.clover-films.com
©2014 United Nations Association Film Festival (UNAFF)