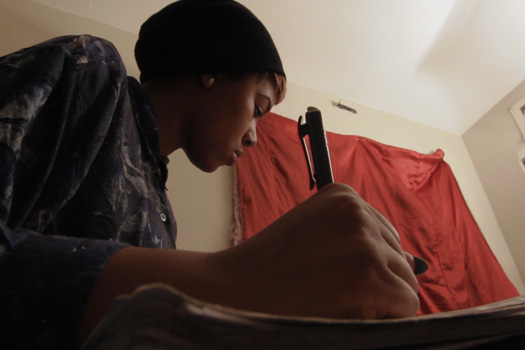 Wednesday 10/22, 4:00 PM (Session 19)
Director: Ariane Wu
Producers: Ariane Wu, Stephen Talbot, Michael Schiller, Jose Vadi
Description:
Broken City Poets chronicles the lives of four high school students from Stockton who are challenged to use poetry to make sense of their bankrupt, gang-ridden city. In 2013, The Center for Investigative Reporting and Youth Speaks hosted a series of poetry workshops in Stockton. The two unlikely collaborators, a news organization and a youth poetry group, wondered what kinds of stories young people would tell if they wrote about their hometown, using deeply reported facts provided by journalists.The students' deadline for finishing their poems coincides with a citywide slam poetry competition whose winners will go on to compete in a national contest. During this journey, the students learn that language is a means of personal redemption, as well as a tool for social change.
Biography:
Ariane Wu is a multimedia producer for The Center for Investigative Reporting. Her previous works include Prisoners of Tradition: Women in Afghanistan, and The Man Who Armed the Panthers, about how Richard Aoki, a prominent social activist who supplied the Black Panther Party with guns, was revealed to be an FBI informant. Most recently, her animation Hidden in the Harvest, about the reality of rape on the job among undocumented women in America, won an Alfred I. duPont-Columbia Award. Ariane graduated in film studies and political science from UC Berkeley.
José Vadi is a writer, performer, and educator living in Oakland, California. Since the age of nineteen, José has served as a Poet Mentor for Youth Speaks, the nation's leading literary non-profit. A two-time National Poetry Slam champion, José was the recipient of the San Francisco Foundation's Shenson Performing Arts Award for his debut play, A Eulogy for Three, produced at Intersection for the Arts under the curation of Marc Bamuthi-Joseph's Living Word Festival. Since 2010, José has served as the Editor and Curriculum Developer of The Bigger Picture, an anti-diabetes multimedia campaign sponsored by UC San Francisco's Center for Vulnerable Populations. José has performed and taught at colleges and detention facilities throughout the country, including Colby College, the University of Georgia at Athens, UC Berkeley, George Washington University, and San Quentin Penitentiary. José completed his Master of Fine Arts in Creative Non-Fiction at Mills College and is the inaugural Project Director of The Off/Page Project, a new collaboration between Youth Speaks and the Center for Investigative Reporting. He is currently the National Digital Programs Director of Youth Speaks. 
Contact Information:
The Center For Investigative Reporting
e: cirfilms@cironline.org
w: www.cironline.org
©2014 United Nations Association Film Festival (UNAFF)