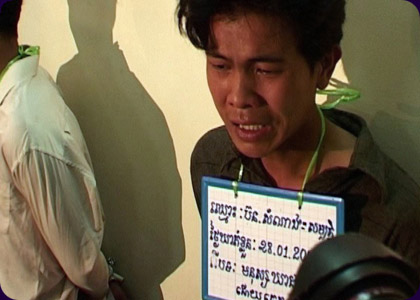 Who Killed Chea Vichea?
(57 minutes) Cambodia/USA
Saturday, 10/23, 7:45pm (Session IV)
Director: Bradley Cox
Producers: Rich Garella, Jeffrey Saunders

Description:
Who Killed Chea Vichea? is a highly charged murder mystery and political thriller. In 1999, Cambodian garment workers demanding decent wages and working conditions found their leader in Chea Vichea. As president of Cambodia's free trade union, he stood with them despite beatings and death threats. On a sunny morning in 2004 as Vichea read the paper at a sidewalk newsstand, three bullets silenced him forever. Under intense international pressure, the police arrested two men and extracted a confession. They were sentenced to twenty years each. But did they have anything to do with the crime? What seems at first to be justice done starts to look like a frame-up, and the implications reach far beyond the police station and the courtroom. Who Killed Chea Vichea? is a co-production with ITVS, with funding from the Corporation for Public Broadcasting.

Biography:
Bradley Cox lived in Cambodia for almost five years. He captured the story of Chea Vichea's murder as it unfolded on the streets and in the courtrooms of Cambodia. Previously he made the documentary Cambodia: Anatomy of an Election. He was a co-founder of Bhutan's first film school, worked as a screenwriter and director in Los Angeles and has won numerous film festival awards.
Rich Garella was managing editor of The Cambodia Daily, and later worked as press secretary for Cambodia's main opposition party. He co-wrote and produced Polygraph for MoveOn.org's "Bush in 30 Seconds" contest; it was broadcast nationally. With Eric Pape he wrote A Tragedy of No Importance, about the 1997 grenade attack against the Cambodian opposition.
Jeffrey Saunders is an Emmy-nominated filmmaker and founder of CinemaCapital, an independent production and distribution company based in New York. His films have been screened at international festivals including the Berlin Film Festival, IDFA, SWSX and Thessaloniki, and acquired by broadcasters including Sundance, ARTE, TF1, ZDF and SBS. His feature film Goal Dreams was selected as one of the top ten "Movies that Matter" by Amnesty International.

Contact Information:
Loud Mouth Films
1643 Bancroft Street
Philadelphia, PA 19145
E-mail: info@whokilledcheavichea.com
Web site: www.whokilledcheavichea.com