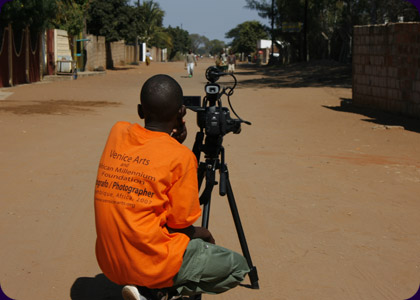 Home is Where You Find It
(27 minutes) Mozambique/USA

Tuesday, 10/26, 5:00pm (Session XIII)
Director: Alcides Soares
Producers: Neal Baer, Arthur Forney, Chris Zalla, Malena Ruth

Description:
Alcides Soares is a 16-year-old AIDS orphan, one of half a million living in Mozambique today. An American television writer Neal Baer and movie director Chris Zalla gave Alcides a movie camera and taught him how to shoot. The result is a moving chronicle directed by Alcides himself. His journey to find a family and make a new life in a country that has been ravaged by AIDS is a story repeated millions of times everyday throughout Africa. As Alcides's story unfolds, we meet the orphans of Reencontro, an organization in Moputo that provides these children with bare sustenance. The Reencontro orphans were also taught photography by a group of American and Mozambican photographers and provided with still cameras so they could tell their own stories about the impact of AIDS on their lives. Their pictures, sometimes tragic, often hopeful and always honest, appear throughout Home is Where You Find It as a reminder that these children's voices must be heard. In telling his story, Alcides finds an elderly woman to live with and, unexpectedly, is reunited with his younger brother whom he hasn't seen in ten years. AIDS tears families apart, but the resilience of children like Alcides can make new families out of tragedy.

Biography:
Neal Baer is an executive producer of the Emmy-nominated show Law & Order: Special Victims Unit. He was an executive producer of the NBC series ER and was nominated for five Emmys. Neal was also a practicing pediatrician and teacher before his career in television. Neal traveled to Mozambique in August 2007 to work with 16-year-old Alcides Soares, who has lost both parents to AIDS to make Home Is Where You Find It. He says, "Storytelling is our basic way of communicating our dreams, our hopes and our fears. Yet many stories go unheard, stories that could move us, stories that could motivate us to take action, because the poor and the disenfranchised too often do not have the technology to tell their personal tales. BYkids gives these youth a voice, by giving them a camera and a mentor. Now, through the work of BYkids, the world will get to see and hear their moving stories. What better way to share my love of storytelling than by helping young people who are aching to share their lives?"

Chris Zalla is a writer and director whose first film Padre Nuestro won the Dramatic Grand Jury Prize at the 2007 Sundance Film Festival. He wrote a feature film set in a Bolivian Prison entitled Marching Powder, for Brad Pitt's Plan B Entertainment. Chris received an MFA with honors in directing from Columbia University's Graduate Film Division, where the faculty awarded him a full departmental research assistant fellowship for merit as a top student. He also served as a teaching assistant at Columbia, where he instructed undergraduates in weekly classes in film history, theory and craft. Chris was born in Kisumu, Kenya and spent much of his youth overseas. He has also worked as a rough carpenter and spent nine summer seasons as a commercial salmon fisherman in Alaska's Bering Sea. He is fluent in Spanish and currently lives in Brooklyn, New York.

Contact Information:
BYkids
330 West End Avenue, Suite 7A
New York, NY 10023
E-mail: info@BYkids.org
Web site: www.BYkids.org