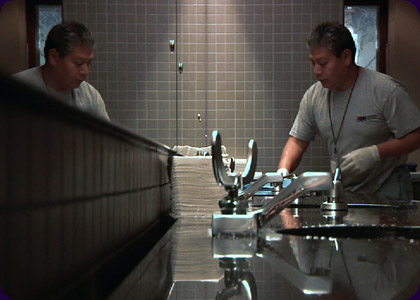 Dreams Awake
(7 minutes) USA
Tuesday, 10/26, 4:00pm (Session XII)
Directors/Producers: Kevin Gordon, Rebekah Meredith

Description:
This film is a meditation on the immigrant experience through the life and poetry of Doroteo Garcia, a Mexican immigrant, father, janitor, union activist, and poet. Like countless Mexican immigrants, Doroteo came to the United States to make a better life for his family, leaving behind his sons in the process. What was meant to be a short separation turned into more than a decade. To deal with his loneliness, Doroteo turned to poetry to express himself. To deal with the invisibility of immigrant workers, he became a union activist.

Biography:
Kevin Gordon spent several years working in public interest law before turning to filmmaking as another tool for social change. He has since worked on productions for PBS and the Discovery Channel, most recently as an associate producer and field producer. His first short Tellin' It Like It Is screened at the 2008 San Francisco International Film Festival. Kevin is currently pursuing an MFA in documentary film and video at Stanford University. He is based in San Francisco and is a graduate of Yale University.
Rebekah Meredith is a first-year MFA candidate in the documentary film and video program at Stanford University.  She received her BA in 2006 from the University of Redlands with an emphasis in the economics of race and gender. While an undergraduate, Rebekah actively integrated elements of dance, music, painting, poetry and film production into her studies. Her first film, a "mockumentary" titled 180°, reversed the concept of heteronormativity to reveal a world in which being "straight" was out of the general norm. Her second film, Love, Hate & Hair explored the hair stories of three young black women. The documentary touched on issues of race(ism), gender, and beauty standards—navigating through the women's individual stories, to a larger and more critical conversation about hair and its meaning within the US.

Contact:

Kevin Gordon
57 Dudley Lane, Apt 108
Stanford, CA 94305
E-mail: kevingordonfilms@gmail.com
Web site: www.kevingordonfilms.com