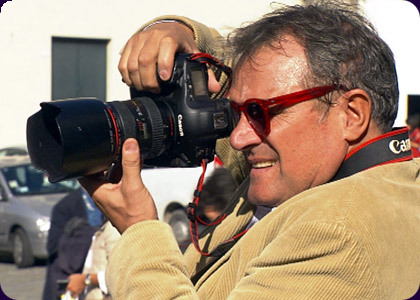 Oliviero Toscani - The Rage Of Images
(44 minutes) Germany
Wednesday, 10/27, 9:40pm (Session XVII)
Directors: Peter Scharf, Katja Duregger
Producer: Birgit Schulz

Description:
A dead soldier's blood-soaked t-shirt; a nun kissing a priest; a gaunt young man with AIDS; all were images used by the fashion label Benetton to advertise its clothing in the 90s. The provocative campaign was the work of Italian photographer Oliviero Toscani, a man who brought topics such as war, racism, the death penalty, and the misery of refugees into the business of advertising. His posters set off a storm of indignation throughout the world; in many places they were banned. Toscani's "Reverse Psychology Marketing" challenges the intelligence and the consciousness of its audience; rather than praising products and tempting people to buy, it seeks to enlighten. The Rage of Images examines the now 68-year-old artist and pioneer of anti-advertising whose career began with fashion shoots for labels such as Fiorucci, Armani and Esprit. It also looks at the private man who broke with Benetton in 2001 and now works independently, designing ad campaigns that go far beyond the mainstream.

Biography:
Peter Scharf was born in Hagen, Germany. He studied history, German linguistics and Anglo-American history in Cologne. At the same time, he worked as a freelance print and radio journalist, mainly in music. Between 1994 and 1999 he was editor of the city magazine StadtRevue in Cologne. From 2000 on he has worked as a TV journalist for WDR, ARTE, 3sat and MTV with contributions to the TV magazines WestArt, Metropolis, Kulturzeit and Titel Thesen Temperamente.
Katja Duregger was born in Stuttgart, Germany and worked in radio and diverse TV productions in Cologne. Since 2000 Katja has worked as a freelance TV journalist and documentary filmmaker for several German TV stations.

Contact Information:
Hans-Peter Metzler
Appellhofplatz 1
Cologne, D-50667
Germany
E-mail: buero.metzler@t-online.de
Web site: www.bildersturm-film.de