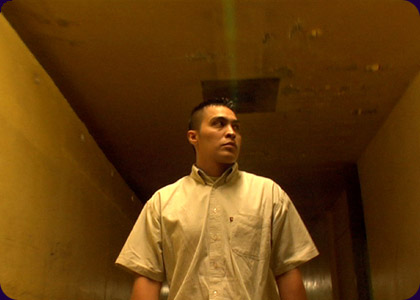 Presumed Guilty
(90 minutes) Mexico
Sunday, 10/31, 12:00pm (Session XXVI)
Directors: Roberto Hernández, Geoffrey Smith
Producers: Layda Negrete, Roberto Hernández, Martha Sosa, Yissel Ibarra

Description:
What is it like to be picked up off the street, told you have committed a murder you know nothing about and find yourself behind bars for twenty years? In December 2005 this happened to Tono Zuniga in Mexico City, and like thousands of other innocent young men he was condemned for a crime he had never committed. Presumed Guilty is the story of two young lawyers and their incredible struggle to free Tono. With no background in film, they set about recording his story as they realized that only a camera could reveal the institutionalized injustice they were witnessing. Shot over three years with unprecedented camera access to the Mexican court and prison systems, this observational film is highly dramatic and full of real suspense, yet also a searing indictment of a system where the police do not have to investigate because the system presumes guilt.

Biography:
Roberto Hernández was trained as a lawyer in Mexico and Canada, and had no particular interest in cameras or film until he found himself collecting statistics in the basement of Mexico City's Superior Court. What he saw inspired him and his wife Layda to make El Túnel, a short documentary that presented scandalous facts about Mexico's justice system. The film was aired in several TV stations throughout Mexico. As a result of the support the film received, in 2008 Mexico's Congress passed the most significant amendment to its Constitution's due process clause, requiring public trials and the presumption of innocence. However, the implementation of this reform is hardly progressing at all, as today the Mexican government remains ostensibly focused on an offensive against drug cartels. In June 2006, the desperate friends and relatives of an inmate saw the names of Roberto and Layda in the newspapers and contacted them, pleading for help. This shuttled them into a two-year production adventure that resulted in Presumed Guilty.
Geoffrey Smith was born in Melbourne, Australia. In 1987 he found himself in Haiti, helping to make a documentary about the country's first election in thirty-one years. Following the discovery of a massacre of twenty-one voters in a schoolyard, Smith was himself shot and wounded. After struggling to recover in London, he decided to go back to Haiti to find the man who had nearly killed him. The film, Searching for a Killer, won wide acclaim and was aired on the BBC. The winner of numerous awards, Smith has made more than twenty-two films and has worked for all the major UK broadcasters.

Contact Information:
Roberto Hernandez
E-mail: contactopresuntoculpable@gmail.com
Web site: www.presumedguiltythemovie.com