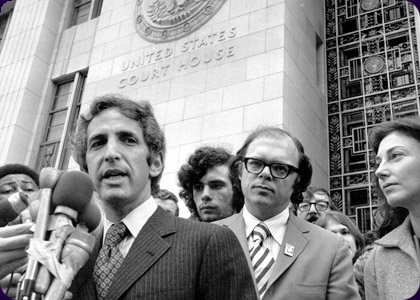 The Most Dangerous Man in America: Daniel Ellsberg and the Pentagon Papers
(96 minutes) USA
Friday, 10/29, 7:45pm (Session XXI)
Directors/Producers: Judith Ehrlich, Rick Goldsmith

Description:
The Most Dangerous Man in America is the story of what happens when a former Pentagon insider, armed only with his conscience, steadfast determination, and a file cabinet full of classified documents, decides to challenge an "imperial" presidency—answerable to neither Congress, the press, nor the people—in order to help end the Vietnam War. In 1971, Daniel Ellsberg shook America to its foundations when he smuggled a top-secret Pentagon study to the New York Times that showed how five presidents consistently lied to the American people about the Vietnam War—a war that was killing millions and tearing America apart. President Nixon's National Security Advisor Henry Kissinger called Ellsberg "the most dangerous man in America," who "had to be stopped at all costs."

Biography:
Judith Ehrlich co-produced and co-directed the ITVS documentary The Good War and Those Who Refused to Fight It, a story of men guided by principle to take the unpopular position of pacifism in the face of World War II. This revealing look at questions of war, conscience, activism and the spiritual life of committed individuals was broadcast nationally on PBS in 2002 and rebroadcast in 2007. In 2003, The Good War won both major US history film awards and was selected for over a dozen film festivals.
Rick Goldsmith produced and directed the Academy-Award nominated documentary Tell the Truth and Run: George Seldes and the American Press, broadcast nationwide on public television and cablecast on the Sundance Channel. The film dissects American journalism throughout the twentieth century through the actions of a truly independent newspaperman, and offers a piercing look at censorship and suppression in the media. He recently wrote and edited Soul of Justice: Thelton Henderson's American Journey, a film on a pioneering and controversial African-American jurist.


Contact Information:
Kovno Communications
2600 Tenth Street, Suite 628
Berkeley, CA 94710
E-mail: jie@mostdangerousman.org
Web site: www.mostdangerousman.org