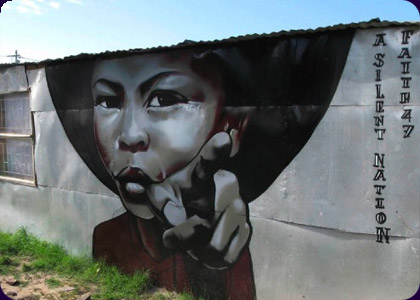 Streetball
(90 minutes) Australia/South Africa
Tuesday, 10/26, 8:00pm (Session XIV)
Director: Demetrius Wren
Producers: Michael Smith, Demetrius Wren

Description:
The Homeless World Cup is an annual soccer tournament comprised of the homeless and the excluded that draws teams from over fifty-six countries. The South African team consists of ex-convicts, former gangsters, orphans and recovering drug addicts that band together to represent their country, proving that no one is beyond redemption. Out of 250 athletes who try out for the country's team, only eight are chosen. After years of neglect, abuse and rejection by society, these players are recognized for their sporting talent and grab the opportunity to train daily to the peak of fitness before they leave for Melbourne. With tougher rules and higher stakes, these eight players compete not only to win the cup but also to leave life on the streets and begin the life of prosperity promised to them. Streetball is a story of hope and of the resilience that dwells within the human spirit. 

Biography:
Michael Smith was born in Johannesburg and spent the first years of his life in the Old Houghton community. The 1960s and 1970s were turbulent times in South Africa, so his American-born parents ultimately moved his family out of the country. Always politically minded, when Hurricane Katrina hit the coast of New Orleans, Michael and his brother organized donations from their neighbors and packed up a truck of supplies to drive down to New Orleans. These experiences proved to be significant and led Michael to not only found the organization, From Us With Love (FUWL), but to bring it back to the place of his birth.  FUWL began work in the townships of the Western Cape and joined forces with nursery schools and orphanages, providing specifically what these organizations requested, rather than beginning a new organization all together. 
Demetrius Wren began his artistic training at an early age after enrolling in the Davidson Fine Arts School in Augusta, Georgia, where he spent eight years studying music, dance, drama and video.  While in high school, Demetrius worked and volunteered for the Jewish Community Center in his hometown, working predominantly with special needs students. He has taught saxophone lessons and tutored at local schools in Augusta.

Contact Information:
Sunfish Films
848 S. Mariposa Avenue, Apt. 3
Los Angeles, CA 9005
E-mail: info@streetballfilm.com
Web site: www.streetballfilm.com