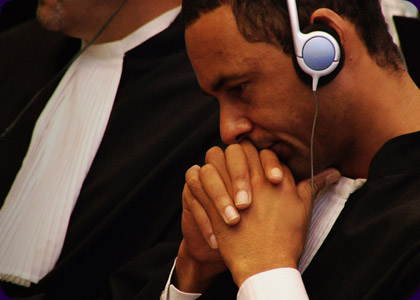 War Don Don
(85 minutes) Sierra Leone/USA
Friday, 10/29, 5:15pm (Session XX)
Directors/Producers: Rebecca Richman Cohen, Francisco Bello

Description:
In the heart of Freetown, the capital of Sierra Leone, United Nations soldiers guard a heavily fortified building known as the "special court." Inside, Issa Sesay awaits his trial. Prosecutors say Sesay is a war criminal, guilty of heinous crimes against humanity. His defenders say he is a reluctant fighter who protected civilians and played a crucial role in bringing peace to Sierra Leone. With unprecedented access to prosecutors, defense attorneys, victims and, from behind bars, Sesay himself, War Don Don puts international justice on trial for the world to see––finding that in some cases the past is not just painful, it is also opaque.

Biography:
Rebecca Richman Cohen is an award-winning filmmaker and a law school graduate with experience in international human rights and criminal defense. She interned as an investigator at the Bronx Defenders and continued to do investigative work at the Special Court for Sierra Leone, working on a legal defense team for Alex Tamba Brima in the AFRC-accused case. She has been adjunct faculty at the Rhode Island School of Design (RISD) where she taught an undergraduate seminar entitled "Human Rights, Mass Atrocity, and Documentary Film" and at American University's Human Rights Institute where she taught "Criminal Justice Stories in Film." For her work on War Don Don she was awarded the Cinereach award for excellence in vital, artful storytelling. War Don Don also won the Special Jury Prize at the SXSW Film Festival.
Francisco Bello studied at the Cooper Union School of Art and has worked in the post-production of films by Kevin Smith, Michael Moore and George Butler, among others. His recent editorial work includes Summer Sun Winter Moon (ITVS), Neither Memory nor Magic, Betty la Flaca (HBO), and Julieta y Ramon (Showtime). He launched Ropa Vieja Films LLC in 2007 with Salim Baba, which he shot and produced in Kolkata, India. Salim Baba has screened at festivals worldwide and was nominated for an Academy Award for Best Documentary Short Subject. He has been awarded fellowships from the PBS/WGBH Producer's Academy, the NALIP Producer's Academy, Tribeca All Access, and a grant from the Urban Artists Initiative.

Contact Information:
E-mail: info@wardondonfilm.com
Web site: www.racinghorsepro.com