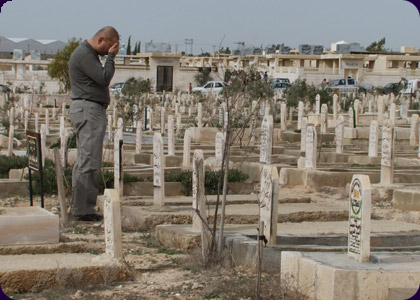 Killing in the Name
(38 minutes) Indonesia/Jordan/USA
Friday, 10/29, 9:30pm (Session XXI)
Director: Jed Rothstein
Producers: Jed Rothstein, Liz Garbus, Rory Kennedy

Description:
Ashraf Al-Khaled was celebrating the happiest day of his life when a suicide bomber walked into his wedding and killed his father and twenty-six other family members in front of his eyes. Now, he's rising from horrific tragedy to take an unprecedented step––breaking the code of silence in the Muslim community by speaking out against terrorism. Killing in the Name follows Ashraf's quest to understand what gives rise to terrorism and expose its true costs. From an Al-Qaeda recruiter, to a militant behind one of the world's worst terrorist attacks, to a madrassa full of boys ready for jihad, Ashraf takes us on a journey around the world to see if one man can speak truth to terror.

Biography:
Trained as an anthropologist at UC Berkeley and as a filmmaker at Columbia University, Jed Rothstein has been working in documentaries since 1995. His works include Shouting Fire: Stories From the Edge of Free Speech, Coma, God's Next Army and Democracy on Deadline: The Global Struggle for an Independent Press. For his work on Kids Behind Bars Jed received the Emmy for Outstanding Individual Achievement in Research. Also, he won a Cine Golden Eagle for his work as co-producer of Rory Kennedy's Pandemic: Facing AIDS, a documentary and five-part HBO series about people living with AIDS in India, Thailand, Russia, Uganda and Brazil. Currently, he is working on Heavy Metal Islam, which follows young Egyptians as they struggle for freedom and the chance to play once-forbidden music on the world stage.
Liz Garbus is an award-winning producer and director. She is co-founder of Moxie Firecracker Films. Her most recent films include Shouting Fire: Stories from the Edge of Free Speech, Coma and Ghosts of Abu Ghraib, which won the Emmy for Outstanding Non-Fiction Special. Her films Street Fight and The Farm: Angola, USA were nominated for Academy Awards. In addition to its Oscar nod, The Farm won the Grand Jury Prize at the Sundance Film Festival and two Emmy Awards. Garbus also directed The Execution of Wanda Jean, The Nazi Officer's Wife, Pandemic: Facing AIDS, The Secret Life of a Serial Killer and Juvies, which chronicles the turbulent journeys of three troubled young men as they travel through Maryland's juvenile justice system. Garbus graduated magna cum laude from Brown University and is a fellow of the Soros Foundation's Center on Crime, Communities and Culture.
Rory Kennedy is an award-winning producer, director and writer. She is co-founder of Moxie Firecracker Films. Kennedy has produced and/or directed documentaries for HBO, PBS, Lifetime Television, A&E, Court TV, The Oxygen Network and The Learning Channel, covering the AIDS crisis, human rights, domestic abuse, poverty, drug addiction, labor struggle and political corruption. Her works include Thank You, Mr. President: Helen Thomas at the White House and Pandemic: Facing AIDS. Her film Ghosts of Abu Ghraib won the Primetime Emmy Award for Best Documentary, and Street Fight was nominated for an Academy Award for Best Documentary.


Contact Information:
Moxie Firecracker Films
39 Lincoln Place
Brooklyn, NY 11217
E-mail: info@moxiefirecracker.com
Web site: www.moxiefirecracker.com