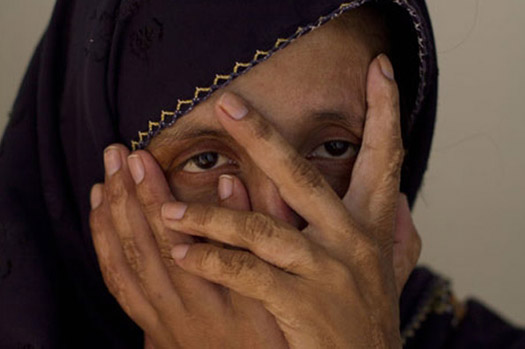 Sunday 10/27, 2:10 PM (Session 31)
Directors: Daniel Junge, Sharmeen Obaid Chinoy
Producers: Davis Coombe, Daniel Junge, Alison Greenberg
Description:
Every year in Pakistan, many people – the majority of them women – are victimized by brutal acid attacks, while numerous other cases go unreported. With little or no access to reconstructive surgery, survivors are physically and emotionally scarred. Many reported assailants, often a husband or an individual close to the victim, receive minimal, if any punishment from the state. Zakia, a thirty-nine year old woman who had acid thrown on her by her husband after filing for divorce strives to find justice, alleviate pain and restore her face. Rukhsana is a twenty-three year old woman who was attacked by her husband and in-laws, and forced to reconcile with them. Renowned Plastic surgeon Dr. Mohammad Jawad left the prominence of his London practice to return to his home country and help the victims of such attacks.
Biography:
Daniel Junge's first feature-length film, Chiefs, won the Grand Jury Prize at the Tribeca Film Festival, Iron Ladies of Liberia, premiered at the Toronto Film Festival, airing worldwide. They Killed Sister Dorothy, won the Audience and Grand Jury Prizes at the SXSW Film Festival and earned Emmy nomination for Best Investigative Journalism, The Last Campaign of Governor Booth Gardner was nominated for an Academy Award for Best Documentary Short and Saving Face, won Oscar for Best Documentary Short.
Sharmeen Obaid-Chinoy has worked across the globe, producing internationally acclaimed films including Pakistan's Taliban Generation, the recipient of the Alfred I. DuPont Award and the Association for International Broadcasting Award. Her other films include Afghanistan Unveiled and a series of documentaries for Channel 4 for which she was awarded Broadcast Journalist of the Year by One World Media UK. She is the first non-American to receive the Livingston Award for International Reporting. Her 2012 film Saving Face won the Academy Award for Best Documentary Short.
Contact Information:
e: Daniel@Jungefilm.com
w: https://streamingmoviesright.com/us/movie/saving-face/
©2013 United Nations Association Film Festival (UNAFF)