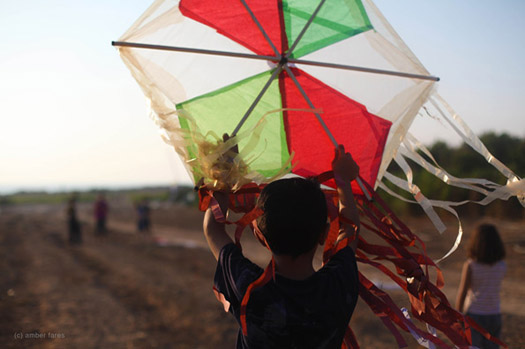 Friday 10/18, 1:30 PM (Session 2) - FREE ADMISSION

Directors: Nitin Sawhney, Roger Hill
Producers: Paul Lee, Uzma Hasan
Description:
Flying Paper is the uplifting story of Palestinian children in Gaza on a quest to shatter the Guinness World Record for the most kites ever flown. It showcases the creative resilience of these children making and flying kites despite the odds. The film has been co-produced with young Palestinians in Gaza, trained by the filmmakers through a youth media program called Voices Beyond Walls. While the record-breaking event is what drives the film's narrative arc, it is the everyday stories of the young kite makers that will touch audiences through their humor and playful spirit. The film seeks to humanize the conflict through a touching cinematic rendering of the fascinating kite culture among children as a form of creative resistance in Gaza.
Biography:
Nitin Sawhney, Ph.D. is Assistant Professor of Media Studies at the New School. His research, teaching and creative practice engages the critical role of technology, civic media, and artistic interventions in contested spaces.  He examines social movements and crisis contexts, though forms of creative urban tactics, participatory research, performance and documentary film. Since 2006, Nitin co-founded a nonprofit initiative Voices Beyond Walls to conduct digital video and storytelling workshops with youth in Palestinian refugee camps in the West Bank and Gaza. Nitin recently began a participatory media project, Zona Intervenida, focusing on genocide, memory and body through site-specific performance interventions in Quetzaltenango, Guatemala.
Roger Hill founded the Documentary Production Collective MentalRev Productions.  Hill directed MentalRev's first feature length documentary Struggle: a film on voter suppression and election rigging in US Presidential Elections.  Struggle was chosen by Link TV as their featured documentary in the months leading up to the 2012 Presidential Election.  Roger and MentalRev Productions have produced several short films, several of which have aired at film festivals around the world.  Hill has toured with his films in cities across the United States and worked as a trainer with the Voices Beyond Walls participatory media program in Gaza during the summer of 2010.
Contact Information:
e: flyingpaper@flyingpaper.org
w: www.flyingpaper.org
©2013 United Nations Association Film Festival (UNAFF)