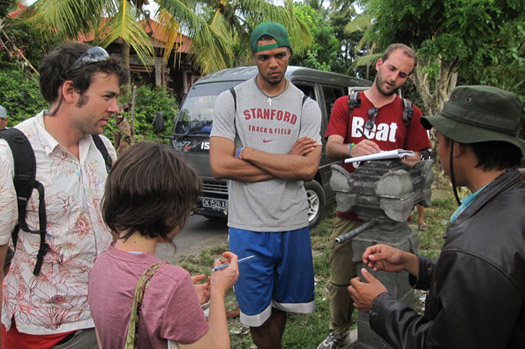 Saturday 10/26, 4:00 PM (Session 29)
Directors: Ralph King Jr., Michael Schwarz
Producer: Ralph King Jr.
Description:
Extreme by Design follows a band of college students, who, using a radical new design approach, make life-changing products for the poor. At a time of unprecedented global challenges, the under-thirty 'Millennial' generation has every reason to be fatalistic and disengaged. Yet, in fields ranging from public health to education, plenty of millennials are engaged. The film shows the students as they master "design thinking" techniques, practicing how to listen empathetically, brainstorm exhaustively and prototype rapidly at the "d.school" (Stanford's futuristic new Institute of Design). They travel to the primitive clinics of Bangladesh and the barren fields of Indonesia where they gather insights into the needs of targeted users, invite critique of their device models and discuss, for example, what sort of difference a water storage device costing $15 rather than $50 might make in their lives.
Biography:
Ralph King is an independent filmmaker and founder of Hawkview Pictures. He also produced Around June and co-produced Presque Isle, narrative features that premiered at the Mill Valley Film Festival. Prior to filmmaking, he spent twenty-five years as a reporter for The Wall Street Journal and several national magazines. He was twice nominated for the Pulitzer Prize and won the National Association of Science Writers' Science-in-Society Award and the California Governor's Media Award. He is a graduate of Stanford University.
Michael Schwarz is president of Kikim Media. Prior to founding Kikim in 1996, he worked in public television for twenty years, first as an independent producer of such landmark films as Abortion Clinic and Living Below the Line, then as part of the senior management team at the PBS station KQED. Schwarz's honors include three national Emmy Awards and two Peabody Awards. His most recent film, The Botany of Desire, is a PBS documentary based on Michael Pollan's best seller. For the last seven years, Kikim has also been producing short videos about social entrepreneurs for the Skoll Foundation.
Contact Information:
Hawkview Pictures, Kikim Media
e: ralph_king@sbcglobal.net
w: www.extremebydesignmovie.com
©2013 United Nations Association Film Festival (UNAFF)