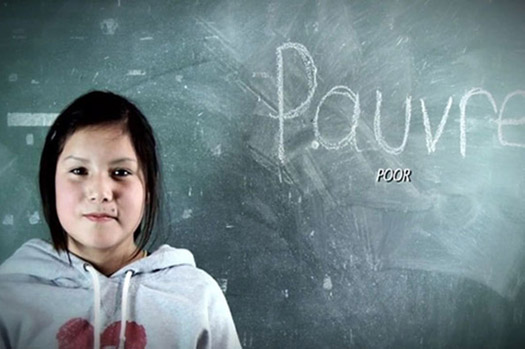 Wednesday 10/23, 3:10 PM (Session 20)
Directors: Elisa Moar, Marie-Pier Ottawa
Producer: ENSEMBLE
Description:
On a blank chalkboard, the Manawan youth rewrite the stories of their lives, describing prejudices of which they often fall victim.
Biography:
ENSEMBLE is an organization that is devoted to working with young people to promote respect for differences, in order to foster an environment free of discrimination and bullying. Inspired by the principal of universal human rights, this organization promotes and defends peoples' inalienable right to freedom, equality and justice. Its work aims to raise awareness among youth about their roles and responsibilities and intolerance in their schools and communities. Students are instructed how to recognize the prevalent prejudices and stereotypes that exist in their environments and developing projects that can help make their schools and communities more open, respectful and safe.
Elisa Moar is from Manawan, Quebec. She completed college studies in photography. A fan of special effects and image transformations, she intends to bring us into strange and fantastical worlds. She made her first experimental film Tides in 2012. Soon followed by the very poetic Micta
Marie-Pier Ottawa is native from Manawan, Quebec, an Atikamekw community. In 2010, Ms. Ottawa went to Brazil, Paraguay and Chile where she presented two of her short films, The Tonsure and The Small Pleasures. In 2007, she directed She and I, a film that widely circulated in festivals around the world including the First Nation People Festival in Montreal, the Winnipeg Aboriginal Film Festival, Festival Planète Honnête and the Carrousel International du film in Rimouski. Marie-Pier is currently a Cegep de Trois-Rivières student in the Visual Arts program.
Contact Information:
Wapikoni
e: diffusion@wapikoni.ca
w: www.wapikoni.tv
©2013 United Nations Association Film Festival (UNAFF)