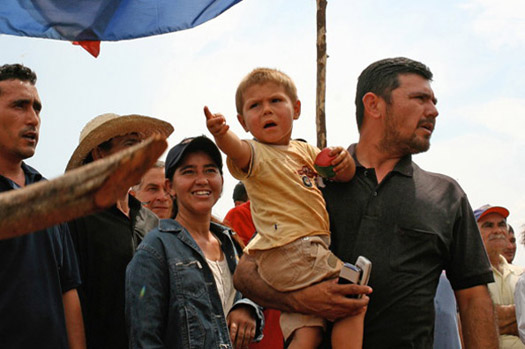 Raising Resistance
(86 min) Germany/Paraguay/Switzerland
[buy tickets]

Friday 10/18, 5:10 PM (Session 3)
Directors: Bettina Borgfeld, David Bernet
Producer: Oliver Stoltz
Description:
Raising Resistance highlights the stark plight of the campesinos, the small farmers of Paraguay and their fight to thwart the aggressive expansion of (GM) genetic soy crops. This conflict illustrates the global impact that modern genetic engineering in the twenty-first century has on both people and nature. Overall, Raising Resistance is a parable about the suppression of life and the diversity of plants, cultures and about how resistance arises both in people and in nature.
Biography:
Bettina Borgfield, worked as a journalist and cinematographer for an international news agency in Germany and abroad after earning her master's degree in American studies, film, theater studies and art education. In 2004, Bettina directed the documentary Shooting Under Fire, for which won the German TV Award and the German Human Rights Film Award. Through the images and perceptions of both the Palestinian and Israeli photographers, the film takes a look at both sides of the conflict. Her second film Ich Bin Immer Noch Ich, portrays HIV-positive youth in a township near Cape Town.
David Bernet, worked as a print media journalist and as a radio writer after earning of his master's degree in general and comparative literature studies at the Freie Universität Berlin. In 1994, he devoted himself to documentary film, as a researcher, story developer, dramaturge and author. Since 2000, David authored and directed three documentaries: Jew by Choice, a story about three Jewish converts, The Whispereres, a journey through the world of European simultaneous interpreters and Regards en Arrière, set in WWII Switzerland. At the moment David is developing Among Friends, a documentary about the development of proposed EU legislation.
Contact Information:
Dreamer Joint Venture Filmproduktion GmbH
e: info@dreamerjointventure.de
w: www.raising-resistance.com
©2013 United Nations Association Film Festival (UNAFF)