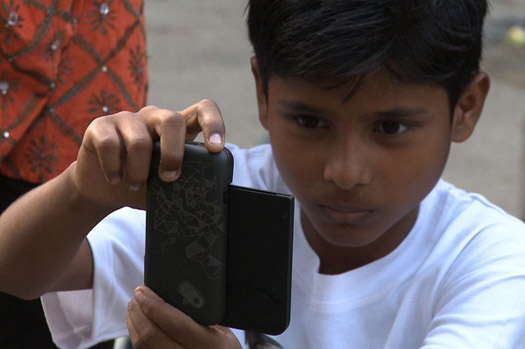 Tuesday 10/22, 4:10 PM (Session 18)
Wednesday 10/23, 4:30 PM (Session 20)
Directors/Producers: Nicole Newnham, Maren Grainger-Monsen
Description:
The Revolutionary Optimists draws us into the world of two 11-year olds with no access to clean drinking water, a girl forced to labor inside a brick kiln, and a teenage dancer on the precipice of choosing child marriage to escape from her abusive family. From these fragile lives, lawyer turned change-agent, Amlan Ganguly mines the strength and vision to build an unlikely revolution. The film follows Ganguly and 4 children from Kolkata's poorest slums on an intimate journey through their adolescence.
Biography:
Nicole Newnham is a documentary filmmaker and writer. She co-produced and directed The Rape of Europa, about the fate of Europe's art treasures during WWII, which played theatrically in 80 cities nationwide. Nicole's work has been featured on PBS, nominated for two Emmys, a WGA award and shortlisted for the 2007 Documentary Oscar. Nicole was also nominated for an Emmy Award for co-producing and directing the documentary Sentenced Home, for Independent Lens series on PBS that follows three Cambodian refugees in Seattle who are deported after 9/11. Nicole co-produced They Drew Fire, an independent documentary about the combat artists of World War II and wrote the companion book distributed by Harper Collins.
Maren Grainger-Monsen is a physician, filmmaker-in-residence and Director of the Program in Bioethics in Film at the Stanford University. Maren directed Hold Your Breath and Worlds Apart project on cross-cultural conflicts in medicine, which aired on PBS. Broadcast on "Point of View" series, The Vanishing Line focuses on Maren's journey toward understanding the art and issues of dying. Where the Highway Ends: Rural Healthcare in Crisis won a regional Emmy Award and Grave Words was awarded first place in the American Medical Association Film Festival. Maren studied film at the London International Film School, earned her medical doctorate from the University of Washington and emergency medicine and palliative care training at Stanford University School of Medicine.
Contact Information:
e: nicole@cocofilms.com
w: www.revolutionaryoptimists.org
©2013 United Nations Association Film Festival (UNAFF)