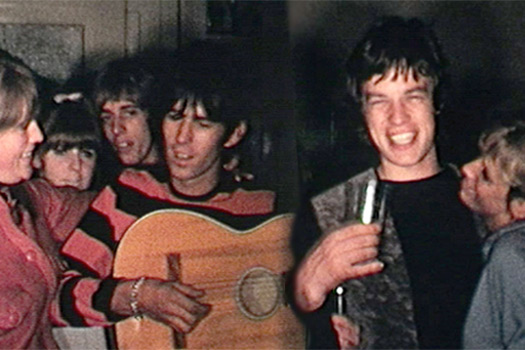 Saturday 10/19, 9:50 PM (Session 10)
Directors/Producers: Stefan Berg, Magnus Gertten
Description:
An old film reel from the summer of 1965 features a party in an apartment on Fersen Road in Malmö, Sweden. Local pop bands like Namelosers and Gonks are in attendance as well as a few exclusive guests: Mick Jagger, Keith Richards and Brian Jones. This is a significant event since The Rolling Stones are the first international pop band to visit Malmö. Forty years later, the filmmakers and some of the guests who attended the party reunite. Rolling Like a Stone is a documentary about identity was influenced during the 60s. It's also a film about the difficulty of aging, holding on to dreams and living in the present. Rolling Like a Stone covers lots of never-before-seen footage from the party, including a recently rediscovered, 1965 film from Club Bongo. The soundtrack for the film has music from The Namelosers and original compositions by Metro Jets (Magnus Börjeson and David Birde).

"A gracefully shot and edited film about music and about fate and dreams and the complicated realities that display them. It takes a very specific and seemingly insignificant moment and turns it into universal human drama." - Peter Gabriel
Biography:
Magnus Gertten is Swedish director and producer. He worked as a radio and television journalist for the Swedish Radio and Swedish Television. He founded with Lennart Storm the production company Auto Images in 1998 which is primarily renowned for a vast number of documentaries, produced in co-operation with Sveriges Television (SVT) and screened at international TV channels and Film Festivals.

Contact Information:
Auto Images
e: lennart.strom@autoimages.se
w: www.autoimages.se
©2013 United Nations Association Film Festival (UNAFF)