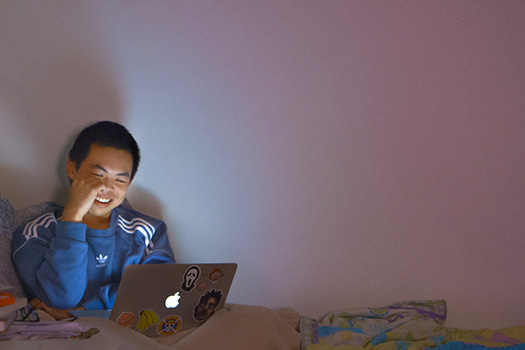 SUNDAY 10/28, 1:20 PM (SESSION 24)
Directors/Producers: Barna Szász, Ellie Wen

Description:
An 18-year-old Instagram influencer attempts to reconcile his identity online with his identity in real life.

Biography:
Barna Szász is a Budapest-born filmmaker and video-journalist specialized in the young genre of online videos. Starting out as a video-journalist at the largest Hungarian news magazine, Index.hu, he later became the leader of the video team for the portal that has 1 million visitors a day. From the 1-minute Instagram videos to the 25-minutes-long short documentaries he believes that online videos are the best tools to affect today's society. Being able to reach millions of people Barna's passion is to inspire viewers with personally engaging stories, and to make society better by presenting social-political issues and problems that would not reach newer generations through traditional media. Over the years he won the Media for Talents award and the Hegeto Honorka award for presenting issues of the socially disadvantaged. In 2016, he co-founded the Video Journalism certificate program at Moholy-Nagy University of Arts and Design, Budapest, and from 2017 he is a Fulbright Student pursuing his MFA in Documentary Film and Video at Stanford University.

Ellie Wen was born in Hong Kong and moved to Los Angeles when she was eight years old. She attended Stanford University and graduated with a BA in Drama and a Minor in Sociology. Ellie was selected for the 2012 Project Involve fellowship program and was named the Barbara Boyle Scholar. She has directed and produced numerous shorts, documentaries, and features, including White Frog, which she co-wrote. In addition to creating independently, she has also worked at CAA and CBS Films in all aspects of film finance, sales, acquisitions, production, and development. Most recently, she was the Director of Development in Original Series at Super Deluxe, an independent entertainment studio funded by Turner. Her documentary Single Mother Only Daughter screened at the American Cinematheque's 12th Annual Focus on Female Directors and premiered online on Short of the Week and was a Vimeo Staff Pick.
Contact Information:
e: elliewen@stanford.edu
w: https://www.instagram.com/sharedocumentary/
©2018 United Nations Association Film Festival (UNAFF)
Mailing List
If you would like to receive periodic updates about UNAFF events, please click HERE to join our mailing list.






Support UNAFF!
We are a nonprofit organization and if you like what we do, please consider making a donation.