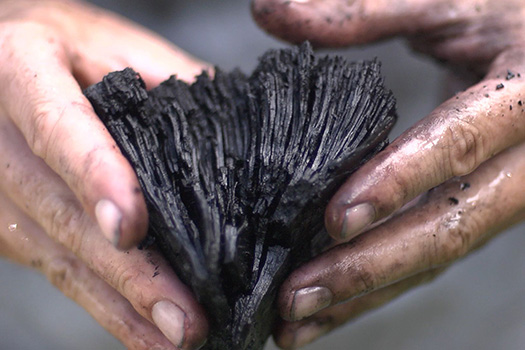 TUESDAY 10/23, 9:10 PM (SESSION 14)
Director: Marcelina Cravat
Producer: Eric Katsuleres
Description:
Through a beautiful exploration of geo-therapy strategies that can literally reverse the effects of runaway global warming, Dirt Rich inspires the viewer to discover that through the return of carbon to the soil, we solve two of the most challenging environmental issues of the day by re-stabilizing safe atmospheric carbon levels and revitalizing soils.
Biography:
Marcelina Cravat, trained at Art Center College of Design and the Berkeley Digital Film Institute, is the producer and director of the award winning environmental documentary called Angel Azul. Making a transition from photography to film came later in life when her love for storytelling motivated her to return to school to pursue a career as a writer/director. Upon graduating she co-founded a small production company specializing in portrait style documentaries on artists and then went on to found Passelande Pictures that serves as an umbrella for all of her projects going forward. Marcelina grew up around Hollywood sets as daughter of character actor Nick Cravat, Burt Lancaster's life long chum, circus partner and co-star.
Eric Katsuleres, a Bay Area filmmaker, graduated from The Berkeley Digital Film Institute and began his career in commercial production and post-production for organizations ranging from small nonprofits to large corporations. After establishing his own small commercial production company, he expanded into narrative and documentary work, joining Passelande Pictures as a Producer and Post-Production Supervisor during the making of Angel Azul.
Contact Information:
e: marcy@dirtrichthemovie.com
w: http://www.dirtrichthemovie.com/
©2018 United Nations Association Film Festival (UNAFF)