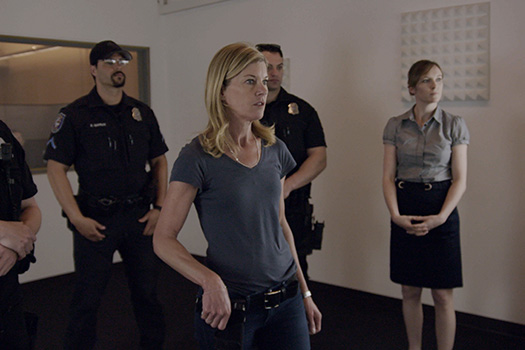 MONDAY 10/22, 8:10 PM (SESSION 12)
Director/Producer: Robin Hauser
Producers: Robin Hauser, Christie Herring

Description:
The toxic effects of bias make headlines every day: sexual harassment, racial profiling, the pay gap. We confidently make snap judgments, but we are shockingly unaware of the impact our assumptions have on those around us. There is a test that measures unconscious biases: the Harvard-based Implicit Association Test, or IAT. After the filmmaker takes the IAT, she is shocked by her results and embarks on an investigation into the nature of human bias. bias gives voice to neighbors concerned about profiling in their communities, CEOs battling bias in their businesses, and those of us hesitant to admit our own biases.

Biography:
Robin Hauser is the director and producer of cause-based documentary films at Finish Line Features and President of Unleashed Productions. Robin's award-winning film, CODE: Debugging the Gender Gap, premiered at Tribeca Film Festival and has caught the attention of the international tech industry and of policy makers and educators in Washington, DC and abroad. She delivered a TED talk about the impact of unconscious bias on artificial intelligence, and has spoken at the White House, on Capitol Hill, and at conferences worldwide on topics including diversity and inclusion, the importance of ethical AI, and gender equality. Robin is currently a diplomat for American Film Showcase and has screened her films at US embassies on multiple continents.
Christie Herring is an award-winning editor, producer, and director who has worked in documentary filmmaking for over 20 years. She recently edited and produced CODE: Debugging the Gender Gap and edited (with Jean Kawahara) NOVA's Point of No Return. Christie's credits include work with PBS, National Geographic, A&E, MBC1, the History Channel, and numerous nonprofit and corporate clients. Her ITVS-funded film The Campaign aired on public television and screened at numerous film festivals and universities. She received her MA in Documentary Filmmaking from Stanford University, was a San Francisco Film Society Film House Fellow, is a member-owner of New Day Films and American Film Showcase Expert.
Contact Information:
e: tierneyhenderson@gmail.com
w: https://www.biasfilm.com/
©2018 United Nations Association Film Festival (UNAFF)