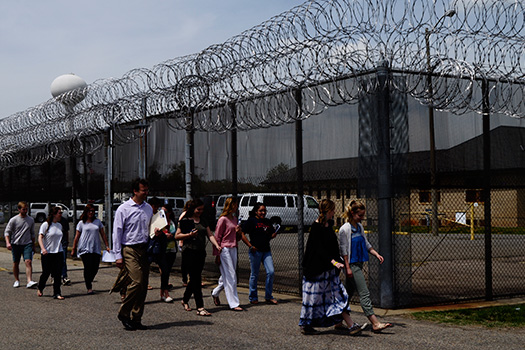 WEDNESDAY 10/24, 4:00 PM (SESSION 15)
Director/Producer: Chris Farina

Description:
Seats at the Table depicts the life-changing experience undergone by university students and maximum security juvenile prisoners as they meet together to discuss classic works of Russian Literature. This unique class reveals the common humanity shared by these disparate groups when the opportunity to form relationships to bridge differences is created by an innovative educator.

Biography:

Chris Farina was born and raised in Baltimore, one block away from Pulaski Highway, which was the subject of his first award-winning independent documentary Route 40, made with Reid Oechslin. He continued this focus on roadside communities with his second film, West Main Street, another collaboration with Oechslin, telling the stories of individuals who lived and worked along this street in Charlottesville, Virginia where Farina moved for his undergraduate education at the University of Virginia and still resides. After obtaining an M.A. in Communications at American University, he made another award-winning film, World Peace and other 4th-Grade Achievements, which had its world premiere in 2010, and has garnered awards at several film festivals, including the Best Film-Audience Award at the Bergen International Film Festival in Bergen, Norway, and the Youth Vision Award at the United Nations Association Film Festival. Farina's award-winning short film, The Holistic Life Foundation: Breathing Love into a Community, focused on HLF's work primarily focused on the youth of the impoverished neighborhoods in west Baltimore.

Contact Information:
e: chris.farina@rosaliafilms.com
w: https://rosaliafilms.com/films/seats-at-the-table/
©2018 United Nations Association Film Festival (UNAFF)
Mailing List
If you would like to receive periodic updates about UNAFF events, please click HERE to join our mailing list.






Support UNAFF!
We are a nonprofit organization and if you like what we do, please consider making a donation.