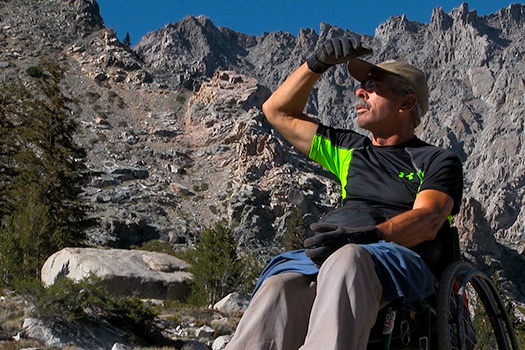 FRIDAY 10/27, 5:10 PM (Session 18)
Director/Producer: Tal Skloot

Description:

4 Wheel Bob tells the story of Bob Coomber, an intrepid adventurer who sets out to be the first wheelchair hiker to cross the 11,845-foot Kearsarge Pass in the Sierra Nevada.

Kearsarge Pass is a classic high approach into the Eastern Sierra, ten miles north of Mt. Whitney, the highest peak in the lower forty-eight. The famously steep and prolonged trail to the pass unfolds with Kings Canyon National Park providing the dramatic backdrop. For Bob in his wheelchair, this adventuring is fraught with danger. He must deal continually with altitude sickness and the threat of diabetic coma, not to mention possible fatal or crippling falls in the steep terrain. The path is often blocked with shattered granite, and Bob must turn his wheelchair backward in order to push uphill using only his arms. Going downhill has its own hazards; the trail is narrow, and his wheels often skid on the loose rock. We gain an intimate, foot-by-foot familiarity with Bob's herculean effort and with some of the most perilous sections of the famous trail.

Away from the Sierra, Bob is an advocate for the disabled in his beloved Northern California. He takes groups from the wheelchair-bound community as well as war veterans on local hikes, teaching about ecology, animal and plant life, and ways to navigate in the wilderness.

This story of overcoming immense obstacles will inspire us to look at our own self-imposed limitations and perhaps reach beyond what we think is possible.

Biography:
Tal Skloot's feature length documentary film Freeway Philharmonic was broadcast nationally on PBS through NETA and toured the globe as part of the US State Department/IDA sponsored American Documentary Showcase, showing worldwide in film festivals and universities. Tal recently produced and directed a web series on SF Bay Area artists and musicians funded by The National Endowment for the Arts. Tal is also a skilled producer and editor with a credit list of feature length documentaries and narrative films that have won multiple Emmy awards, been broadcast nationally on PBS, NBC, ABC, CBS and appeared in numerous national and international film festivals. Tal is a graduate of the American Film Institute and is an adjunct faculty member of the Diablo Valley College film and broadcast arts department.

Contact Information:
e: skloots@earthlink.net
w: http://4wheelbobfilm.com
©2017 United Nations Association Film Festival (UNAFF)
Mailing List
If you would like to receive periodic updates about UNAFF events, please click HERE to join our mailing list.






Support UNAFF!
We are a nonprofit organization and if you like what we do, please consider making a donation.